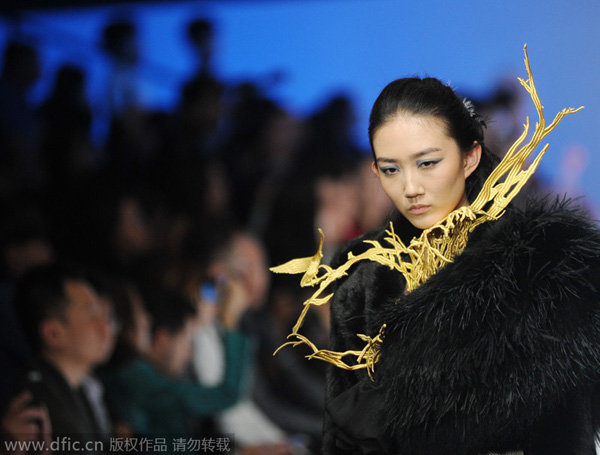 A model displays a new creation at the Copenhagen Fur fashion show during the China Fashion Week Spring/Summer 2015 in Beijing, China, Oct 26, 2014. [Photo/IC]
The fur trade has slowed over the past year in China, but rising demand from northern parts of the country and smaller cities has been a strong factor in global sales growth and prices this year, according to industry participants.
Mark Oaten, chief executive officer of the London-based International Fur Trade Federation, said apart from the warm winter, a slowing economy and a soft luxury market combined to make last year a hard one for the fur business in China.
However, he said, things had improved in recent months as market demand shifted from the top cities such as Shanghai and Beijing to smaller ones and even rural areas.
"We've noticed a changing pattern where fur (demand) has started to grow again compared with last year," said Oaten.
Production in China has been strong in the past, but he said there would be a "slight slowdown" in 2015 because of last year's weak demand, which discouraged production.
"We can see that business is becoming good again in China. (The buyers) come from different parts of China than before," he said.
China, Japan and South Korea have become the top consumers of fur, outranking Europe and the United States, although the latter is catching up this year as its economy grows. Last year, conditions in Russia were difficult, he said, while the US, United Kingdom and Germany recorded strong sales.
"Four years ago, Europe was the most expensive and leading region in terms of consumption," said Oaten. "Then a year and a half ago, Asia overtook Europe."
New wealth and an appreciation for fur as fashion have come together to make Asia the biggest region for sales, he said.
The rouble crisis has affected tourism from Russia to China. Chinese exporters have also been affected by the crisis.
Li Liang, chairman of the Young Entrepreneurs Fur Committee's Beijing branch and head of a leading export company, said that demand from Russia decreased during the recent winter.
Customers "either have less money or they cannot exchange and transfer money to us", said Li. His company's sales are just half those of the same period last year.
The industry has also sought to reduce its dependence on cold weather to generate sales. It has encouraged the consumption of light fur that can be worn all year long, as well as the use of fur as a form of trimming, making it more affordable to young consumers.