Equestrian stars of the future get to grips with a growing sport, reports Peng Yining. Related video: Kids riding high
Qiqimule was dwarfed by Ursus, a 2-meter-tall black gelding. The saddle was higher than the eye line of the 15-year-old, who stumbled a little when the horse nuzzled her face. The girl raised her hand to let the horse sniff at it and gently brush her slender fingers with its whiskers.
Qiqimule's wrist was so thin that an adult could easily enclose it between a thumb and forefinger, but her hands were nimble enough to hold the reins and guide her mount to third place in China's National Youth Equestrian competition in July.
"I held her on the back of a tethered horse when she was only a year old," said Hadatie, Qiqimule's father, a former head coach of China's national equestrian team.
As members of the Daur ethnic group, father and daughter have inherited the equestrian skills for which their ancestors in the Inner Mongolia autonomous region were justly famous.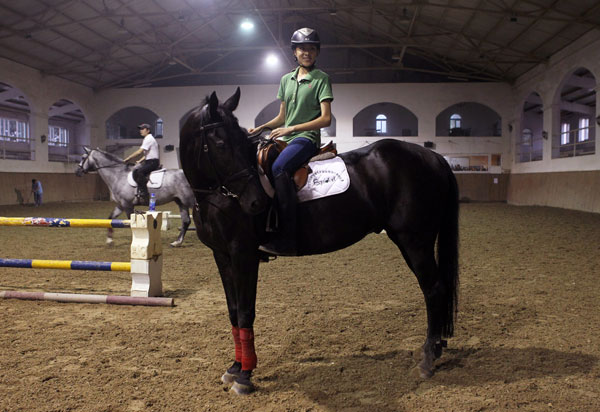 Qiqimule rides a 2-meter-tall black gelding. Equestrian sports have attracted the attention of a select group of youngsters, who can afford the expensive pastime. Photo by Feng Yongbin / China Daily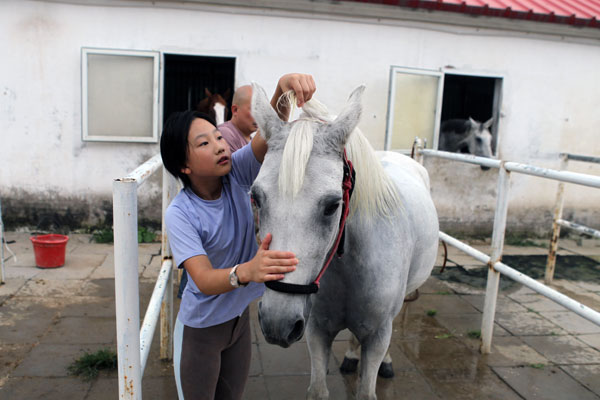 Wang Mochi, 10, becomes a horse whisperer at the Xiwu International Equestrian Club in Beijing. Feng Yongbin / China Daily
"Most good riders might not be strong, but they always start at a young age," said Hadatie, who now works as manager of the Xiwu International Equestrian Club in Beijing, where around 40 of the 200 members are younger than 18.
Qiqimule was victorious in China's first-ever national youth equestrian competition, where 45 riders aged 12 to 21, showcased the talents of up-and-coming equestrians from all over China.
"An increasing number of young people, even children, are participating in the sport. Equestrianism is becoming increasingly popular in China, so we felt it was necessary to hold a competition to encourage them," said organizer Li Nianxi, director of the equestrian department at the General Administration of Sport of China.
However, despite the increasing popularity of horseback riding in China, only 1,000 riders are registered to compete in events. The country has more than 500 equestrian clubs nationwide, most of which provide training sessions for people under 18.
"It's great to be involved in developing the next generation of talent, giving young people the opportunity to reach the top of the sport and maybe even achieve Olympic medals," said Li Nianxi. "They could be China's equestrian stars of the future."