China's farmers battle to ensure maximum crop yields, but inadequate storage facilities and a lack of technical know-how are undermining their efforts, report He Na and Han Junhong in Jilin.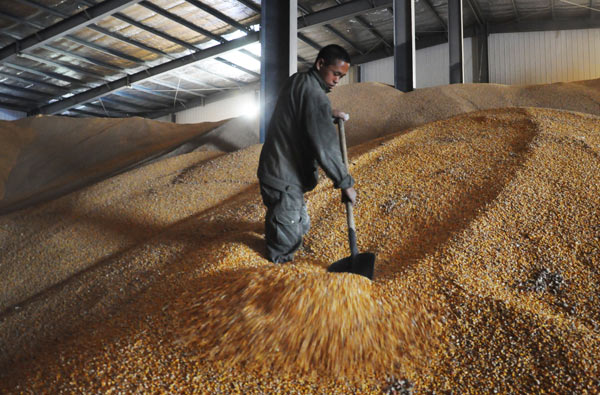 A worker uses a spade to encourage corn to dry at a private barn in Yushu city, Jilin province. Ding Luyang / for China Daily
The stalks of corn stand more than a meter high in Northeast China's Jilin province, but the corn that farmer Han Chang'an harvested last autumn is still stored in his homemade shelter.
Given the constant rise in the price of corn over the past few months, Han's joy was such that he found it difficult to keep a straight face. However, in the past few days his neighbors couldn't help noticing that his smile has faded somewhat.
The weather has turned humid, and rain has fallen for days on end. Some of Han's corn got wet and mold has set in. Even worse for the 50-year-old farmer, rats have penetrated his storage space twice, eating the valuable grain and leaving kernels scattered everywhere.
"I kept the grain for a long time, just waiting for a good price, and now all my efforts have been in vain," said Han, a resident of Dongling village in Shulan city.
Han estimated that he has lost at least 15 percent of his stored grain and the remaining moldy corn is unlikely to fetch a good price at market. "It would have been better if I'd sold it earlier," he admitted with a sigh.
Similarly, Zhao Zhiwen, who lives about 40 km from Han and has stored around 500 kg of rice in her simple barn, also has a headache: Her rice is swarming with bugs because it's been exposed to moisture.
To solve the problem, she has bought vacuum bags and plans to seal the rice off from the air to preserve it and kill the bugs. "Who will want to eat bug-ridden rice?" she asked.
"Farmers are still in the habit of storing grain for personal use. The amount accounts for 50 percent of China's annual grain harvest. However, poor storage conditions and improper methods mean the grain is vulnerable to mold and attack by insects and rats. That means a high level of loss," said He Yi, director of the department of distribution and science and technology at the State Administration of Grain.
To make matters worse, many grassroots grain stores are poorly maintained, resulting in even greater losses.
About thirty percent of China's county-level grain storage depots are in a parlous condition, according to a recent survey conducted by the SAG. It noted that the situation is at its worst in the country's less-developed western regions.
Officials and experts recently warned that the country must take measures to tackle grain losses as soon as possible. They maintain that even if China witnessed good harvests every year, the government's huge financial investment, aimed at increasing output, will have been in vain.
"China's annual post-harvest losses equate to as much as 25 billion kg, that's around 8 percent of national output," said Zhang Tianzuo, director of the farm produce processing bureau at the Ministry of Agriculture, at an agricultural forum held in Beijing in July.