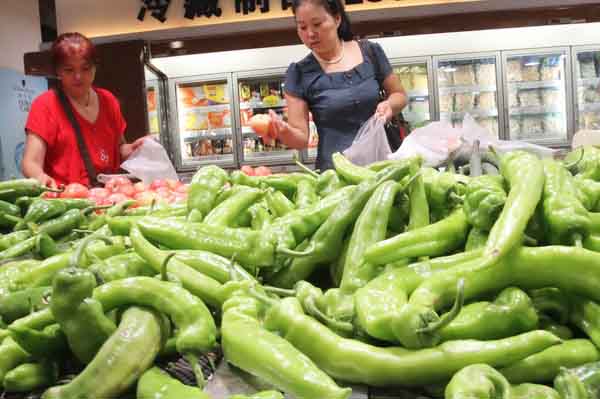 Customers select vegetables at a supermarket in Xuchang, Henan province, July 7, 2012. [Photo/Asianewsphoto] 
BEIJING -- China's farm produce prices edged up last week from a week earlier, with the wholesale prices of 18 types of vegetables up 2.5 percent, official data showed Monday.
The prices of onions, cucumber and white radish gained 10.1 percent, 9.8 percent and 8.9 percent, respectively, according to figures from the Ministry of Commerce.
Last week, the price of pork, a staple meat in China, dropped 0.2 percent from a week earlier and 23.5 percent year-on-year, the ministry said.
The retail price of eggs decreased for a fifth week, down 0.3 percent from the previous week and 2 percent cumulatively for the past five weeks.
Food prices account for a nearly one-third of the prices used to calculate China's consumer price index, which eased to 2.2 percent in June, its lowest level since January 2010.