Many children face arduous and sometimes dangerous trek to the classroom, reports He Na in Cangzhou, Hebei province.
Every time Wang Yuxing telephones his 9-year-old son Wang Hongyu, the boy cries and begs Wang to take him home. At that point, Wang and his wife gulp back the tears and tell him: "We promise to bring you back after you finish primary school".
The little boy has been living with his grandma an hour's drive away from the family home since the start of the year.
"He's never been separated from us before and so he misses us and we miss him. However, we had to take that decision for his own safety," said 34-year-old Wang, from Wangzhuangtou village, Cangzhou city in Hebei province.
Rather than letting him travel to the primary school in Lu'anzhuang village, 6 km each way four times a day along a dirt road, bordered by a 3-meter-deep ditch on one side and date forests on the other, Wang prefers to have his son living with his grandma.
Her village has a primary school just a five-minute walk from the house. The village has more than 1,000 residents, most of whom make a living by cultivating dates.
Although neither boy nor his parents are used to being separated, Wang insisted on the move after Hongyu fell off a bike and tumbled into the roadside ditch, rupturing his spleen in December.
"The doctor said his life would have been in danger if we hadn't got him to the hospital so quickly," said Wang, who blames his son's accident on the closure of the primary school in his village.
According to the Ministry of Education, the number of rural schools fell to 210,894 in 2010 from 440,284 in 2000, a decline of 52.1 percent. Rural primary schools account for 81.3 percent of those that closed across the country between 1997 and 2010.
"China has carried out large-scale closures of rural schools since 2001 in response to a sharp decline in the numbers of school-age students in those areas," said Xiong Bingqi, vice-president of 21st Century Education Research Institute in Beijing. "Although the closures were supposed to be enforced in accordance with local conditions, the fact is that many local government officials turned a deaf ear to the farmers' demands and used the one-size-fits-all approach to solving the problem.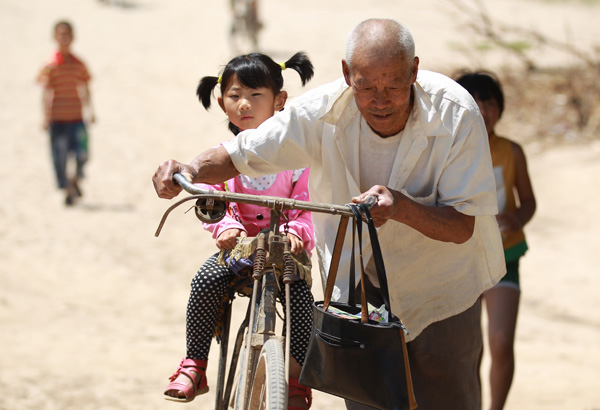 Wang Yunshi, 85, takes his great granddaughter, Wang Jiayi, to and from school four times every day, a total of eight trips daily. Cui Meng / China Daily