Patience has 'bottom line', India told
New Delhi warned to 'not mistake restraint for weakness' over border
India must not expect China to concede its violation of China's territory, analysts said, after a spokesman from the Ministry of National Defense issued a statement warning India to abandon illusions.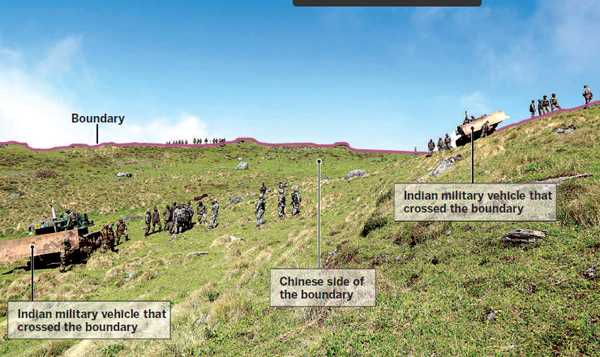 A Foreign Ministry photo released on Wednesday shows Indian troops encroaching on Chinese territory. Provided to China Daily 
There is a "bottom line" to the Chinese military's restraint in solving the incident caused by India's trespass, spokesman Ren Guoqiang said in the statement issued late on Thursday.
Ren said the Chinese military "has remained highly restrained", but "the restraint is not without a bottom line".
Urging Indian troops to withdraw immediately, Ren said India should "abandon any illusion" of delaying tactics, and not underestimate the Chinese military's confidence in and ability to defend peace.
Zhao Xiaozhuo, a researcher at the PLA Academy of Military Science, said India "should not mistake restraint for weakness", as China's restraint doesn't mean it will accept a violation of its territory.
"It doesn't mean there will be no further measures by China," Zhao said, adding that India "is approaching the bottom line" by having its troops remain in the Donglang area (Doklam).
Indian troops illegally crossed the China-India boundary in the Sikkim Sector on June 18 to obstruct China's road building in Donglang.
The Sikkim Sector is the only delimited part of the China-India boundary, and was defined in the Convention Between Great Britain and China Relating to Sikkim and Tibet signed in 1890.
According to the convention, the Donglang area is located on the Chinese side of the boundary.
Governments of both the People's Republic of China and post-independence India inherited the convention.
In letters to former premier Zhou Enlai in 1959, former Indian prime minister Jawaharlal Nehru said the sector of the boundary was defined by the convention.
The Foreign Ministry has lodged repeated representations to India over its trespass across this defined sector of the boundary, but Indian troops have remained in the Donglang area.
Lan Jianxue, a researcher in South Asian studies at the China Institute of International Studies, said the statement made by Ren is a serious warning for India that asks it to withdraw its troops.
"China has tried its best to practice restraint. It has been asking through diplomatic channels for the Indian troops to withdraw. But India doesn't seem to understand," Lan said, adding that there are "various possibilities" if India keeps ignoring China's diplomatic efforts.