Special delivery - Panda mama in France expecting twins any day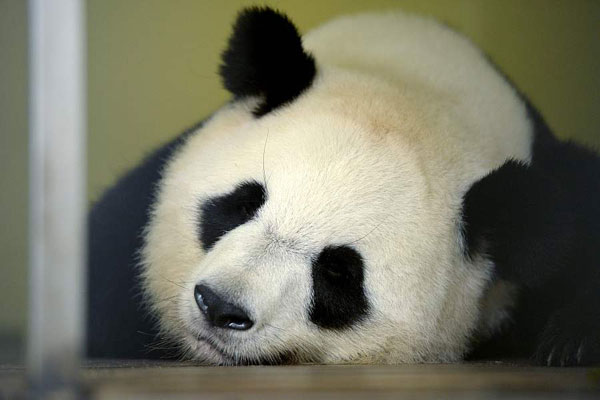 Female panda Huan Huan sleeps inside her box during her potential gestation period at the Beauval Zoo in Saint-Aignan-sur-Cher, central France, on July 25, 2017. [Photo/VCG]
Chinese panda Huan Huan, who is on loan to France, is expecting twin cubs, according to the zoo, which carried out a medical examination and revealed the results exclusively to China Daily on Tuesday.
A team of Chinese and French panda experts awaits the birth of France's first baby pandas, which is expected later this week.
France's first lady is likely to be a "godmother" to the new arrivals.
The excitement follows the recent discovery that 9-year-old Huan Huan was pregnant following artificial insemination. She has been receiving intensive care from a team of experts at ZooParc de Beauval, which is about 200 kilometers from Paris in central France.
"It is very difficult to know exactly when the babies (cubs) will be born," said Delphine Delord, the zoo's director. "My colleagues told me it will be on Friday or Saturday, but we are waiting. Maybe it will be a little bit earlier or later. We still do not know exactly when."
Delord said one French expert and two from China are sleeping next to Huan Huan's enclosure in preparation for the birth.
The zoo has formed a team of at least 10 people to help with the birth, she said.
She said Huan Huan is off her food and has begun to lose weight, something that is normal for a panda in the final days of a pregnancy.
"Now, she only eats bamboo, and sometimes apple," Delord said.
She said her team has access to panda milk brought in from China.
They do not yet know the gender of the cubs. The zoo will follow tradition and wait for China to name them.
Delord confirmed that Brigitte Macron, France's first lady, is expected to become the cubs' "godmother" soon after their birth.
"I feel very excited because these are the first babies of Huan Huan and the first pandas to be born in France. It is a very important birth. After the babies come, we will contact the first lady," Delord said.
Xiang Chen in Brussels contributed to this story.
fujing@chinadaily.com.cn