Chinese drones assist African mine surveying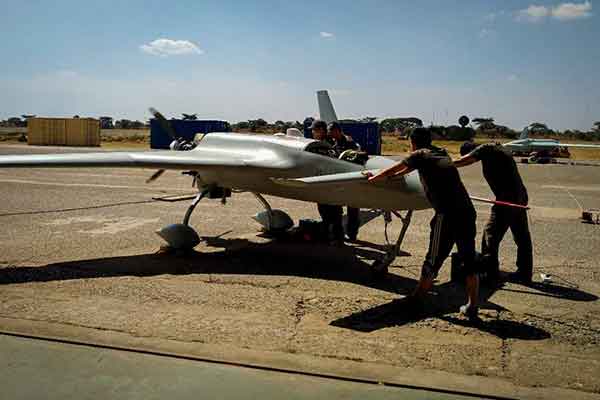 Technicians from the China Academy of Aerospace Aerodynamics prepare a CH-3 unmanned aircraft for a prospecting flight in Zambia. CHINA DAILY
Operation in Zambia marks aircraft's first overseas mission for exploration
Chinese unmanned aircraft have made the first drone-sbased aerial survey of mineral resources in Africa, according to the drones' producer.
The China Academy of Aerospace Aerodynamics refitted several of its best-selling CH-3 midrange combat/reconnaissance unpiloted planes to be the world's first deployable mine-survey drones and have been using them to prospect for mineral resources in the southern African country of Zambia since mid-July.
So far, the CH-3s have carried out more than 50 flights and flown nearly 32,000 kilometers in Zambia in aerial prospecting operations, the academy said in a news release sent to China Daily.
The project is part of an intergovernmental aid program launched by the Chinese Ministry of Commerce's Agency for International Economic Cooperation and China Geological Survey and was aimed at using drones to survey an 80,000-square kilometer area in northern and northeastern Zambia.
China has used manned aircraft to perform aerial prospecting for other nations such as Cambodia, Indonesia and Laos, and has deployed unmanned planes to survey mineral resources on its own territory. However, this is the first time a Chinese drone has conducted such an operation overseas and is also the first time an African nation has adopted unmanned aircraft to explore mines, the academy said.
The China Academy of Aerospace Aerodynamics is the country's largest exporter of military drones. Its CH series have been sold to militaries in more than 10 countries, making it the largest military drone family the country has exported, according to the academy.
Designers have also developed an array of civilian versions of the CH family. The CH-3 has variants that can fulfill geological and mineral inspection, environmental monitoring and disaster analysis. The larger CH-4 armed drone has unarmed versions capable of executing extended long-range marine surveillance and emergency communications.
Shi Wen, chief designer of the CH series at the academy, said designers made a lot of modifications on the CH-3s used in the prospecting projects, including changes to their flight-control and navigation instruments and aerodynamic frames. The modified version is able to fly very close to the ground and can stay a long time in the air, he said.
During each flight, aerial magnetometers and airborne radiometric detectors mounted on the CH-3 collect and analyze data, providing preliminary information for geological and chemical prospecting.
Shi explained that compared with operations by manned aircraft or ground vehicles, drones make surveying and mapping tasks more effective and economical.
They need less maintenance and fuel than manned planes, create less disturbance and can safely fly over hazardous or inaccessible areas without risks to humans, according to Shi.
Next, the academy will use its drones to prospect mines for Liberia and is in talks with Kenya, the academy said.
Shao Jinqiang, an expert from the Surveying and Mapping Institute under the Guizhou Provincial Bureau of Geology and Mineral Exploration, said the use of unmanned planes has extensively reduced the workload and difficulties in prospecting and has improved accuracy and safety.
zhaolei@chinadaily.com.cn