Bringing the best brains to rural schools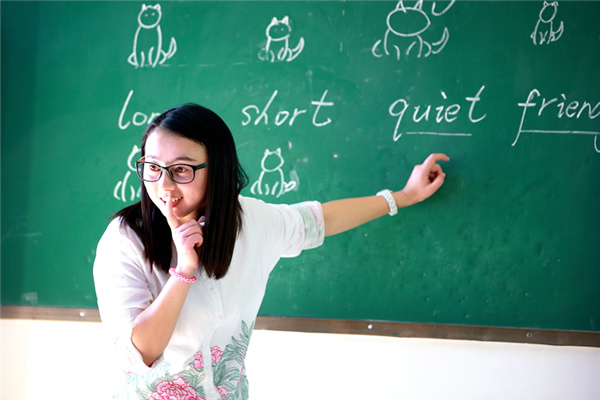 Chen Chen, a Teach for China volunteer, teaches an English class at Xinhe Primary School in Dazhai village, Yunnan province. Provided To China Daily
An NGO is helping to overcome a shortage of skilled teachers in some of China's most isolated areas, as Li Lei reports.
In the past decade, a nonprofit organization has been trying to reverse an imbalance in the quality of education provided in urban and rural areas. Since 2008, Teach for China has been sending graduate volunteers from some of the country's top universities to teach in remote villages and address a shortage of talented teachers. The program is now beginning to reap real rewards.
When He Liu arrived at the middle school in Dazhai village, Yunnan province, seven years ago, the local children had never heard of Beethoven, Chopin or other composers, and often looked confused when their new teacher played a nocturne in class or showed them DVDs of The Phantom of the Opera. For the students, anything from outside their isolated village was entirely unknown, and therefore hard to comprehend.
"But as they listened to more songs and watched more movies, I saw signs that they were enjoying themselves. Some would nod their heads to the music and pretend they were conducting," said the 29-year-old graduate of Beijing Normal University, recalling the change in his former students.
After graduating in 2010, He traveled to the mountainous region to work as a history teacher. He discovered that most of the teachers in the village had graduated from vocational schools and could teach little more than the contents of textbooks. "In addition, the parents, who had been farmers all their lives, or worked in big cities and left their children in the care of their grandparents, could only provide limited knowledge. Those factors were taking a toll on the students," he said.
Feng Qingli, who was head teacher during He's time in the village, said the isolated location hampers the children's progress. "Nearly all of them work hard, but the problem is that they have limited contact with the outside world, so their vision is narrow," he said.
Zhang Yue, one of He's former students, followed in her old teacher's footsteps and studied in Beijing, attending Beihang University. She said He had helped to broaden her horizons and was a lasting influence on her life.
"When I was young, the village seemed to be the entire world to me. It was Mr. He who made me realize that our village is so small and that I could go out and see the world if I worked hard," she said.
According to Teach for China, about 1,000 fresh graduates from China's top universities joined its program in the period between 2008 and 2016. In 2006, about 470 classes involved with the program nationwide saw average marks rise, and more than 420 registered a surge in the number of students who regularly scored more than 80 percent in exams.
Urban-rural divide
Since the reform and opening-up policy started in the late 1970s, China's economy has grown to become the second-largest in the world. However, the downside is that the country's rapid rate of urbanization has widened the urban-rural divide, and the gulf in the education sector is one of the most worrying problems, according to experts.

Editor's picks