Middle-aged man enrolls in college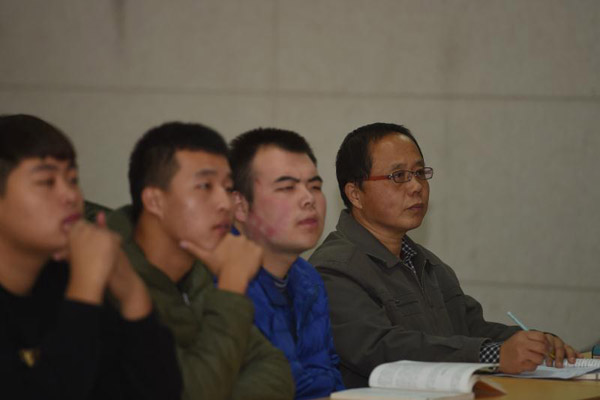 The 44-year-old Chen Kebiao attends one of his classes at a college in Cangzhou, Hebei province, on Nov 16. [Photo by Fu Xinchun/China Daily]
A 44-year-old man from Cangzhou in North China's Hebei province has enrolled as a freshman at a local college for more than two months, realizing his old dream.
Chen Kebiao, a herb planter, didn't expect to be admitted by a college.
"I read books with my daughter, only to encourage her and give her company, because she failed last year's college entrance examination," Chen said.
He borrowed some books he was interested in about planting herbs and agricultural technology.
"With more than 10 years of experience in planting herbs, I always wanted to gather some professional knowledge," he said.
But as he began reading more books, he remembered his old dream of going to college, which he was not able to realize when he was young because of poverty.
"All of my family members objected to the idea at first, saying that if I went to college at this age, I would become a huge joke," Chen said.
He added even his daughter didn't want him to take this year's college entrance examination together.
"I also didn't think I would succeed, and just wanted have a try," he said.
When the result showed that he was accepted at Cangzhou Technical College, he felt like he had won a lottery.
His daughter was admitted to another university.
Majoring in modem agricultural technology, Chen said he has learned a lot during the past two months.
"I believe it can be helpful for my planting," he said.

Editor's picks