Waste permits put a cap on polluting companies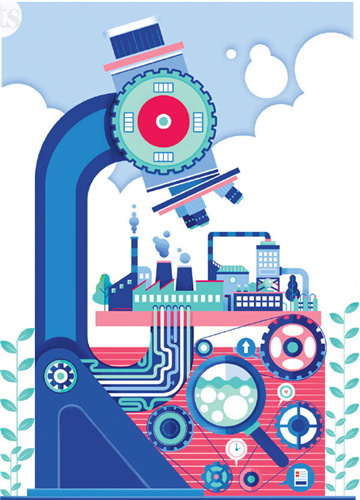 Data collected for new system will help reverse degradation to air, water and soil, expert says
Companies and public institutions will soon need to apply for a new government-issued permit before they can discharge pollutant waste, with restrictions placed on how much they can emit.
The move, announced as part of a pilot plan approved by the Ministry of Environmental Protection last week, is seen as a vital step in efforts to control pollution and improve air, water and soil quality.
According to the plan, which runs to 2020, the permits will be mandatory for industrial enterprises, as well as some public institutions, which are financed by the State, have no revenue, and cover sectors such as education, science, culture, health and the media.
Enterprises that apply but fail to qualify for a permit will still be monitored by local environmental protection authorities to prevent pollution, the ministry said.
China has witnessed rapid economic development over the past three decades. Yet it has come at a price, as industrial activity has degraded air, water and soil quality nationwide. In key areas, such as the Beijing-Tianjin-Hebei cluster, smog has become a major headache for residents and local authorities.
The new permit - which sets a ceiling on how much waste an enterprise can discharge into the atmosphere or waterways over a certain period - is part of wider efforts by the central government to build a strict, integrated system that controls pollution nationwide.
"These permits must be issued to all potential polluters, that's the first step," said Song Guojun, director of the Environmental Policy and Planning Institute at Renmin University of China. "Without this permission, enterprises cannot accurately report their emissions, as the previous requirements were ambiguous."
China first introduced pollutant discharge permits in the late 1980s, but they were not compulsory. According to the ministry's data, only about 240,000 enterprises in 20 provincial areas ever received these original permits.
A ministry guideline on introducing the new unified system was released in January. The document covered the processes for application, examination, approval and management, and said companies will be required to disclose the volume and location of all discharges as well as the types of pollutants released.
The information should be presented in a way that is easy for the public to understand, the document added.

Editor's picks