EU urges more clarity while Britain seeks flexibility as 3rd Brexit talks kick off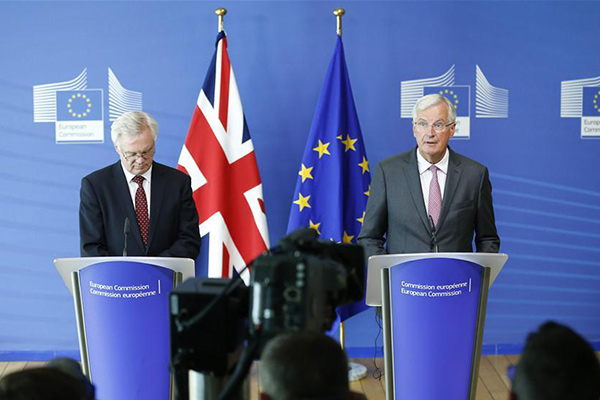 British Brexit Secretary David Davis (L) and European Union's chief Brexit negotiator Michel Barnier address the media prior to the third round of Brexit talks in Brussels, Belgium, Aug 28, 2017. [Photo/Xinhua]
BRUSSELS - European Union's (EU) chief Brexit negotiator Michel Barnier on Monday called on Britain to take a more serious stance and quickly provide official positions on all issues to be tackled in the divorce talks prior to the beginning of the third round of Brexit talks.
"To be honest, I am concerned, time passes quickly," Barnier told reporters in a press conference.
"We welcome the (recent) UK government papers and we have read them very carefully... but we must start negotiating seriously," he said.
"We need UK papers that are clear. The sooner we remove the ambiguity the sooner we will be in a position to discuss the future relationship and a transitional period."
Saying that British documents were "products of the hard work and detailed thinking that has been going on behind the scenes not just the last few weeks but the last 12 months", David Davis, Barnier's British counterpart, said "they should form the basis of what I hope will be a constructive week of talks between the European Commission and the UK."
Progress will require "flexibility and imagination from both sides ... We're ready to roll up our sleeves and get down to work again once more," said Davis.
British government published a series of position papers outlining the country's negotiating positions regarding its withdrawal talks earlier this month.
"The papers demonstrate Britain's pragmatic approach to negotiations, and highlight how conversations about our exit and the future deep and special partnership we want with the EU are inextricably linked," a government spokesperson said.
One of the papers focused on Britain's post-Brexit relationship with the European Court of Justice.
Political commentators said the paper left open the possibility of Europe retaining a say on the British law, particularly in any transitional period beyond March 2019 when the two sides part company.
However, British Prime Minister Theresa May insisted on Wednesday that the jurisdiction of the European court will end with Brexit, with control over the British law returning to Britain.
Another paper discussed facilitating cross-EU trade and business, saying that Britain will seek a special customs deal with the EU after the completion of Brexit.
Schedule published on EU's website showed that the third round talks would last from Monday to Thursday, and Barnier and Davis are scheduled to conclude the talks with a joint press briefing on Thursday.