3 pandas born in Japan come home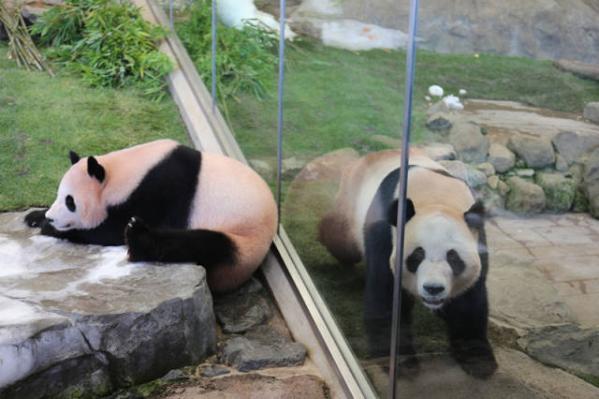 Giant pandas Yang Bang and Hai Bang at the Adventure World amusement park in Shirahama, Wakayama prefecture, Japan, June 4, 2017.[Photo/Xinhua]
Three giant pandas that returned from Japan will meet visitors after a monthlong quarantine is completed at the Chengdu Research Base of Giant Panda Breeding in Sichuan province.
Two experienced keepers will care for Hai Bang, Yang Bang and You Bang in their new residence opposite the main office building of the base, said information officer Chen Cheng.
The panda residence is in the base's old animal hospital, which has no other panda inhabitants, she said.
To help the trio adapt, a Japanese keeper will stay at the base for several days. The keeper brought some water and bamboo from Japan, as the pandas were accustomed to it.
"Their Japanese food might be slightly different from that in the base," Chen said.
Zhang Hemin, executive director of the China Conservation and Research Center for the Giant Panda in Wenchuan county, Sichuan, said pandas born overseas should have no problem with their new Chinese home, as the species has a marked ability to adapt to new environments.
The three pandas were born at the Adventure World amusement park in Shirahama, Wakayama prefecture, Japan, in 2010 and 2012. Hai Bang, a male, and Yang Bang, a female, are twins. Their mother, Liang Bang, now lives in Japan; she was born in 2000.
"One major reason for their return is that they have reached a sexually mature age and need partners," Chen said.
Back in 1994, with the approval of China's central government, the base began collaborating on panda research and breeding with Adventure World. Fifteen panda cubs have been born in the park. Eight of them were previously sent to the Chengdu base, Chen said.
Under an agreement for global giant panda preservation, pandas born overseas belong to China and must be returned to the country after they turn 2.
Chen declined to comment on why the three pandas born in Japan had their stay extended for such a long time.
Before their departure from Japan, a grand send-off ceremony was held at Adventure World, and around 1,200 Japanese fans said goodbye.