Phone transcript reveals Trump pressured Mexican leader on border wall payment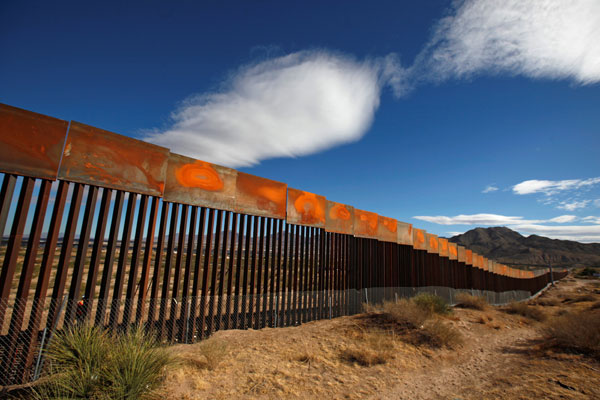 A general view shows a newly built section of the US-Mexico border wall at Sunland Park, US opposite the Mexican border city of Ciudad Juarez, Mexico, Nov 9, 2016. [Photo/Agencies]
WASHINGTON - Newly released transcripts showed that US President Donald Trump pressured his Mexican counterpart in a call to stop saying that Mexico will not pay for a border wall.
"You cannot say that to the press," Trump told Mexican President Enrique Pena Nieto in a phone call back in January, according to a transcript of the call obtained by the Washington Post and releaded on Thursday.
"If you are going to say that Mexico is not going to pay for the wall, then I do not want to meet with you guys anymore because I cannot live with that," said Trump.
According to the transcript, Trump admitted to Nieto that both men "have a political problem" as to who should pay for the border wall repeatedly proposed by Trump on the campaign trail.
"My people stand up and say, 'Mexico will pay for the wall,' and your people probably say something in a similar but slightly different language," Trump told Nieto.
"I have to have Mexico pay for the wall. I have to. I have been talking about it for a two-year period," Trump said then.
The establishment of a border wall along US-Mexican border was a crucial campaign promise the Trump administration has been scrambling to keep.
The border wall, aimed at preventing illegal immigrants entering the United States, is a major issue of contention between the United States and Mexico since Trump claimed on the campaign trail that Mexico would pay for the border wall.