Man fires at Chinese consulate in LA before taking own life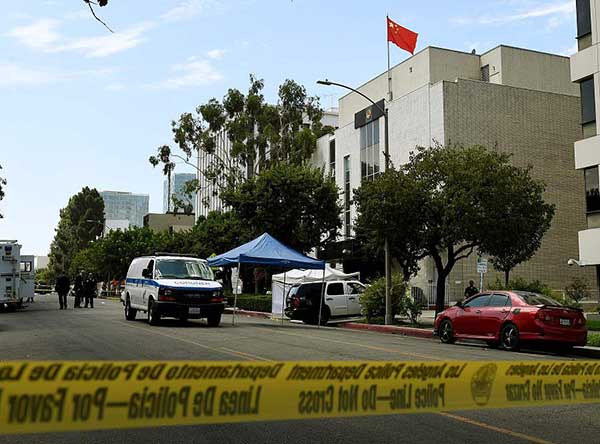 The Chinese consulate in Los Angeles, California, was cordoned off after a Chinese man fired several shots at the consulate building then committed suicide near it's entrance, on Aug 1, 2017. [Photo/VCG]
LOS ANGELES - A man opened fire outside of the Chinese consulate in Los Angeles Tuesday morning before turning the gun on himself and taking his own life, police said.
The man, a Chinese national, fired "multiple rounds" at the consulate building in the Koreatown neighborhood, said Officer Mike Lopez, a Los Angeles Police Department spokesman.
The man, whose name was not immediately released, then fatally shot himself in his car outside of the building, Lopez said.
Investigators said no one else was injured in the shooting.
Police could not immediately provide any additional information about the shooting or the man's possible motive.
Lopez said homicide detectives were conducting an investigation.
A call to the consulate rang unanswered Tuesday afternoon.
In 2011, a man was arrested after police said he fired nine shots at a security guard outside the same consulate, but only hit the building.
AP