Britain's Prince Philip ends 65 years of official engagements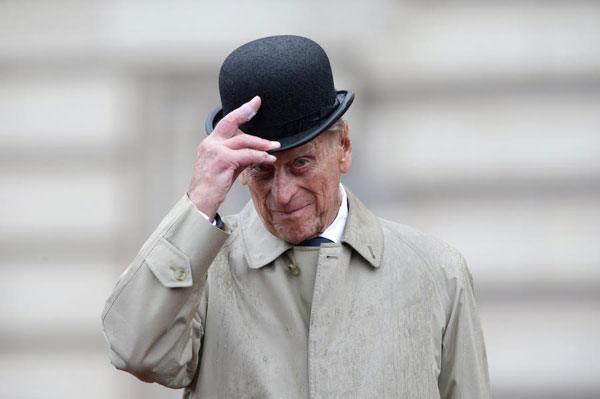 Britain's Prince Philip, in his role as Captain General, Royal Marines, attends a Parade to mark the finale of the 1664 Global Challenge, on the Buckingham Palace Forecourt, in central London, Britain August 2, 2017. The 96-year-old husband of Britain's Queen Elizabeth, made his final solo appearance at the official engagement on Wednesday, before retiring from active public life. [Photo/Agencies]
LONDON - Prince Philip, husband of Queen Elizabeth II, carries out his final solo public engagement Wednesday before he retires from royal duties.
The 96-year-old meets servicemen of the Royal Marines in a ceremonial parade at Buckingham Palace. As the Captain General of the Royal Marines, Prince Philip attends the ceremony paying tribute to personnel of the 1664 Global Challenge -- a series of strength and endurance challenges raising funds and awareness for charity.
It is the 22,219th solo engagement he has carried out since 1952.
It was announced in May that Philip would no longer undertake his own programme of engagements, though he may still accompany the Queen at certain events from time to time.
According to calculation by Buckingham Palace, he has undertaken 637 solo overseas visits, delivered 5,496 speeches, and found time to write 14 books and carried out the role of patron for 785 organisations during his royal career.
The Queen, 91, will continue her public schedule.
The prince has been married to the Queen for 70 years. He had an exploratory operation on his abdomen in 2013 and was treated for a blocked coronary artery in 2011.
When the announcement of his retirement was made this May, the royal consort was praised for his years of service, with British Prime Minister Theresa May offering the country's "deepest gratitude and good wishes". Labour leader Jeremy Corbyn wished him "all the best in his well-earned retirement".