China joins search for missing US sailor in South China Sea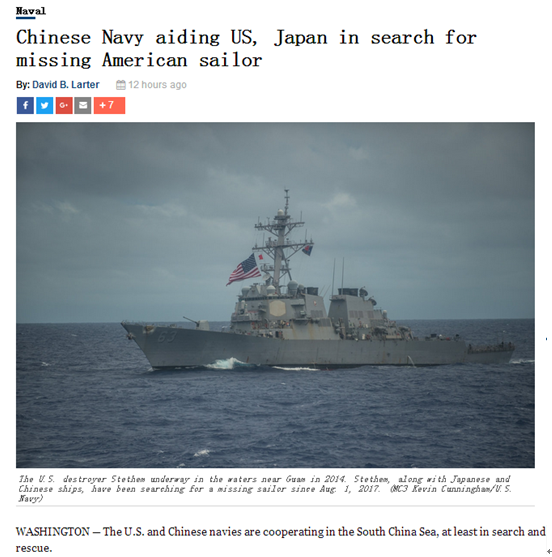 US defense media reports China's efforts to assist the search for a missing US sailor, Aug 3, 2017. [Photo/Screenshot]
China's navy is assisting the search for a missing US navy sailor in the South China Sea, the Chinese Ministry of National Defense said on Thursday.
The Chinese navy's Liuzhou frigate, which was conducting combat readiness duties in nearby waters, coordinated with the US navy "in the spirit of humanitarianism" and in accordance with the code for unplanned encounters at sea, the ministry said in a statement.
The unnamed sailor, who is a male lieutenant according to the Associated Press, is thought to have gone overboard when the US warship was about 100 nautical miles (185 km) southwest of Huangyan Island in the South China Sea on Tuesday morning. The warship has involved in a joint US-Japan drill those days.
A joint US-Japanese search-and-rescue effort is now underway, the US-based Defense News website reported.
The Chinese navy has aided the rescue effort, shadowing the Japan-based US destroyer Stethem along with two Japanese ships, three US navy officials told the military media website.
It also said that the sailor had not been found as of Thursday evening.
But the Chinese ship and its associated aircraft has greatly expanded the area the USS Stethem can cover to try and find its sailor, a US navy official was reported as saying.
Another US navy official, who spoke on the condition of anonymity, said that the Chinese cooperation was a win for protocols set up between all the nations in the region, including China.
"I would say that this is a good example for what benefits come from increased positive interaction with the Chinese," the US official said.
"The use of (the Code for Unplanned Encounters at Sea), existing operational channels for communication, participation in (Rim of the Pacific Exercise)- instances such as this, search-and-rescue efforts, are where those positive interactions and familiarity pay dividends," he added.
The CUES is an agreement reached in 2014 that aims to reduce the chance of an incident at sea among countries involved, and to prevent it from escalating amid rising territorial and maritime disputes.
It is not the first time China has come to the assistance of another country's soldiers.
In late June, China offered medical care to a Myanmar soldier with serious injuries on board vessel Spring Sky as it sailed 60 nautical miles (111 km) away from the Dayaowan Port, located in the Dalian Development Zone, Northeast China's Liaoning province.
China also offered help to three non-Chinese sailors from a chemical ship near a maritime search and rescue center in South China's Hainan province in 2014.