China transfers fugitive to US police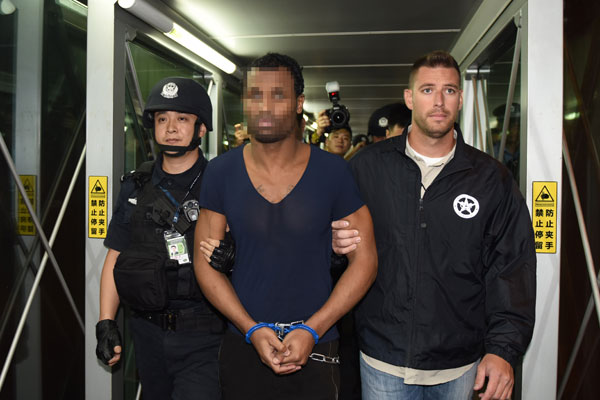 Chinese police hand over fugitive Naquan Ferguson to police from the United States in Guangzhou on Friday. LU HANXIN/XINHUA
A most-wanted fugitive from the United States convicted of violent crime has been repatriated from China to face trial, according to the Ministry of Public Security on Friday.
Early Friday, Chinese police transferred criminal fugitive Naquan Ferguson to their US counterparts at Guangzhou Baiyun International Airport. Ferguson was then escorted to the US to face punishment.
The successful repatriation of the US fugitive was "considered the latest achievement of law enforcement cooperation to hunt down fugitives since two Chinese fugitives were repatriated from the US to face trial in June and August", said a senior official at the ministry who requested that his name not be used.
Two Chinese fugitives-one suspected of rape and the other of fraud-were repatriated from the US to stand trial in China. One was repatriated in June and the other earlier this month.
In September 2011, Ferguson conspired with others to rob a jewelry store in the US state of Connecticut, and in June 2013, he was arrested by police in the United States.
He pleaded guilty to possession of firearms and conspiracy to commit robbery and first-degree larceny and was sentenced to eight-and-a-half years in prison, according to the ministry.
In October 2014, he fled the US to avoid punishment. In May 2015, Interpol issued a red notice on him.
According to the ministry, Ferguson fled to Guangzhou, the capital of Guangdong province, in February, and US judicial authorities asked Chinese police to assist in locating, arresting and repatriating him.
According to the ministry, China has stepped up law enforcement cooperation, including intelligence sharing and conducting joint investigations with the US and other countries to hunt down fugitives and confiscate their ill-gotten assets transferred abroad.
"We have captured and repatriated the US fugitive within half a year, which fully reflects that China has adopted a 'zero tolerance' attitude in fighting cross-border crimes," the ministry official said.
"We are willing to cooperate with relevant countries to nab the fugitives and return their illicit assets on the basis of complying with the law, mutual trust, cooperation and win-win situation," he said.
Huang Feng, a law professor at Beijing Normal University, said, "A number of corrupt Chinese fugitives are still at large in the US, and the successful repatriation of the fugitives between China and the US will serve as good examples to deepen and expand their judicial cooperation on locating, arresting and repatriating the fugitives."