Britain's only female giant panda pregnant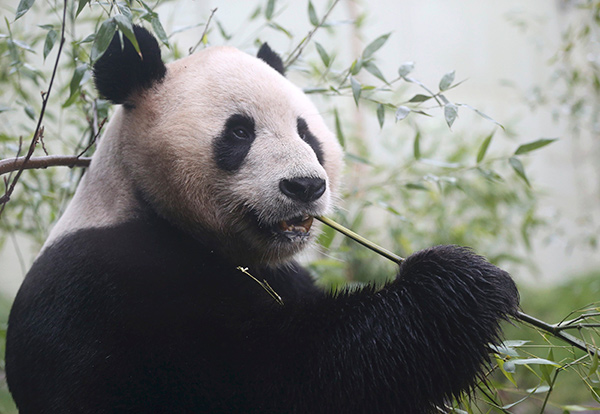 Tian Tian, a giant panda eats bamboo in the outdoor enclosure at Edinburgh Zoo, Scotland April 12, 2016. [Photo/Agencies]
LONDON - Tian Tian, the only female Chinese giant panda in Britain, is pregnant, and a cub could be born as early as Friday, local media reported here Thursday.
Edinburgh Zoo staff believe giant panda Tian Tian is pregnant, after the release of emails suggesting a cub could be born as early as Friday, said the reports.
Documents released Thursday showed that in late July this year, Tian Tian's pregnancy was "on track" and the mother-to-be is "doing real well."
Scottish government officials and staff at Edinburgh Zoo discussed in late July that Tian Tian was definitely pregnant and that her expected date, at the time, was Aug. 25, according to the reports.
If a cub is born, it would be the first birth of a panda in Britain.
Tian Tian, which means Sweetie in Chinese, was born on Aug 24, 2003 at the Beijing Zoo in China. She is currently living at Edinburgh Zoo, Scotland.
Tian Tian and Yang Guang, meaning Sunshine in Chinese, are Britain's only pair of pandas. After their arrival, Edinburgh Zoo instantly became one of Scotland's most popular attractions.
Tian Tian has failed to produce a cub despite repeated artificial inseminations since her arrival at Edinburgh Zoo in December 2011.
The decision to go ahead with artificial insemination came after the zoo decided there was now no prospect of Tian Tian and Yang Guang ever mating naturally.
Panda reproduction is very difficult, partly due to the very short breeding window with ovulation occurring only once a year.
The zoo said that a pseudopregnancy, in which female pandas show physiological and behavioral signs of pregnancy without actually being pregnant, is possible. Many female pandas undergo pseudopregnancy and Edinburgh Zoo is using a battery of tests to try to rule it out.