China showing 'great restraint' to India's incursion, says Defense Ministry
The military has been acting with "great restraint" regarding India's incursion into China's Donglang (Doklam) area, and strongly demands India to immediately withdraw its border troops, Defense Ministry said.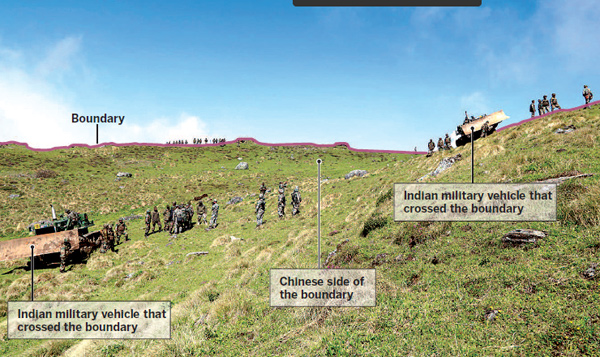 A Foreign Ministry photo released on Wednesday shows Indian troops encroaching on Chinese territory. Provided to China Daily 
Since the incident on June 18, China has been acting with goodwill and using diplomatic channels to resolve the issues, the ministry's spokesman Ren Guoqiang said in an online statement on Thursday night.
India's action has violated the 1890 Convention Between Great Britain and China Relating to Sikkim and Tibet, which stated that the Donglang area is on the Chinese side of the Sino-Indian border.
"India has seriously undermined China's sovereignty and territorial integrity," he said. India also violated the United Nations Charter and "brutally trample" on basic international law and basic principles of international relations.
The military have exercised "great restraints" on the issue to maintain the two country's relation and regional peace and security, he said. "But goodwill does not mean no principle, restraint does not mean no bottom line."
India should abandon its fantasy of expecting change by stalling the situation, he said.
"No country should underestimate the Chinese military's confidence and capability in protecting peace, nor should they underestimate its determination and will to protect China's sovereignty, security and development interest," Ren said.
"The Chinese military will resolutely protect its territorial sovereignty and security interests," he added. "We strongly demand India to immediately withdraw its troops back to the Indian side of the border, and resolve this incident swiftly and appropriately, thus return peace and harmony to the border region."
On Wednesday, China's Foreign Ministry published a paper giving details of the incursion and rebuking India's excuses for their action.
On June 18, more than 270 armed Indian border troops and two bulldozers crossed the boundary in the Sikkim Sector at the Duo Ka La (Doka La) pass and advanced more than 100 meters into Chinese territory to obstruct road building of the Chinese side.
After more than one month, 48 Indian border troops and bulldozer still illegally remained in the Chinese territory.