Events mark debut of two Chinese pandas in Berlin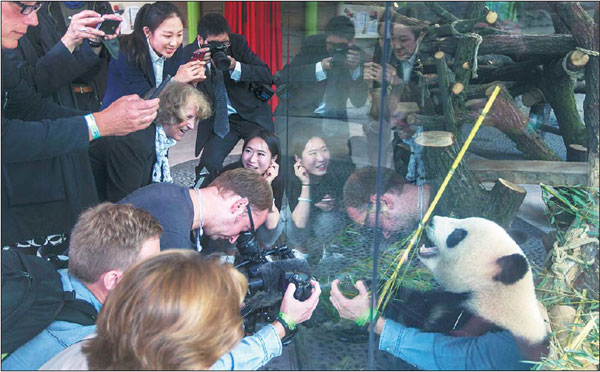 Meng Meng, a female panda from the Chengdu Research Base for Giant Panda Breeding, has become a popular star at the Berlin Zoo in Germany. [Photo/Xinhua]
A weeklong exhibition highlighting China's achievements in the conservation of the giant panda and artifacts about the cuddly bear is being held in Berlin, Germany.
The exhibition, which opened on Wednesday, includes photos, bronze sculptures, engravings, paper cuttings, plaster sculptures and installation art about pandas.
The Chengdu Research Base of Giant Panda Breeding in Sichuan province said the creators of the items were Chinese and German artists and artisans.
The exhibition is one of two events hosted by China to mark the opening of the Panda Garden in Zoo Berlin by President Xi Jinping and German Chancellor Angela Merkel on Wednesday in the lead up to the public's first chance to see two Chinese giant pandas.
Seven-year-old male Jiao Qing and 5-year-old female Meng Meng were sent from Chengdu and will live at Zoo Berlin for 15 years.
The zoo will conduct joint scientific research with the Chengdu breeding base during the pair's stay.
The Chengdu breeding base was set up in 1987 with six hungry pandas rescued from the wild when bamboo, the staple food of pandas, blossomed and died. It is now home to 176 pandas, according to base chief Zhang Zhihe.
A Chengdu cultural week is also being held at Zoo Berlin to give visitors a chance to learn more about the pandas' birthplace.
Visitors can see Sichuan-style embroidery, bamboo weaving and paper cuttings.