Manchester Airport's terminal 3 reopens after precautionary evacuation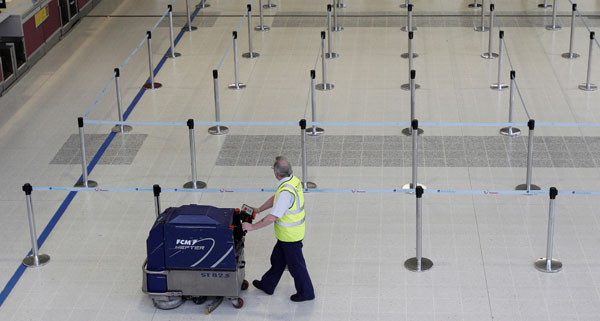 An airport worker cleans around empty check-in desks in a terminal in Manchester Airport, in Manchester, northern England April 16, 2010. [Photo/Agencies]
LONDON - Manchester Airport's Terminal 3 has reopened Wednesday after a precautionary evacuation due to a suspicious bag.
A series of controlled explosions have been carried out by a bomb disposal unit at Manchester Airport, reported BBC.
"Our routine hold baggage screening process in Terminal 3 identified a bag which appeared to contain a suspicious item," said the airport in a statement. "Officers have now determined the bag poses no threat and we are beginning the process of allowing colleagues and passengers back into the terminal," it added.
Police have confirmed that a bomb squad was at the airport, after a call was received about the bag in the morning.
The airport said passengers using terminals one and two "should travel as normal".
Manchester's airport is the third biggest in the country and more than 22 million passengers travel through it each year. Terminal three is the smallest terminal at Manchester Airport and is used for domestic flights as well as some flights to the United States and Europe.
London Heathrow Airport's Terminal three was evacuated Tuesday when fire alarms sounded. Although thousands of passengers were told to leave the building as alarms rang out throughout the terminal, there were no reports of any injuries or causalities.