Protestors in Hamburg clash with police on eve of G20 summit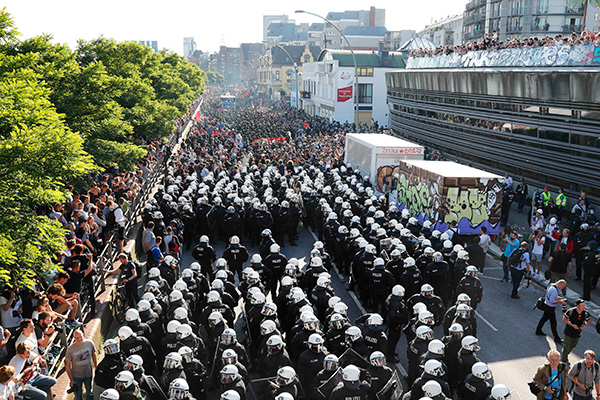 German riot police stand in front of protestors during the demonstrations during the G20 summit in Hamburg, Germany, July 6, 2017. [Photo/Agencies]
HAMBURG - Protest in Hamburg resulted in clashes with security forces on Thursday evening, on the eve of the G20 summit to be held here, with several injuries reported.
The anti-globalization "Welcome to Hell" rally kicked off on Thursday afternoon peacefully, but turned into violence in the evening. The police had to use water cannon, pepper sprays and batons to disperse demonstrators.
The police of Hamburg said on its Twitter account that the number of protesters rose to 12,000 in the evening. Police called on all peaceful demonstrators to distance themselves from these violent protesters.
"Violent men equip themselves with scaffolds and stones. We are appalled at the obvious violence," the Hamburg police said. Damages of vehicles were reported at various areas of the city.
In various places in Hamburg, attacks on emergency personnel and property damage were reported, the Hamburg police said on twitter, adding a total of 15 policemen were injured and three of them must be treated in hospital.
The n-tv quoted Andreas Blechschmidt, a co-organizer of "Welcome to Hell" demonstration as saying that there were several injured demonstrators, including those injured by the use of police batons.
The n-tv reported late Thursday night that after the demonstration "Welcome to Hell" was dissolved, peaceful demonstration is still going on in several locations in the city.
As of the press time, the march is continuing under a heavy police presence, but remains peaceful for the time being. Meanwhile the police reported new outbreaks of violence by "a large number of masked people." The violence has been directed against cars and shops.