OPEC reaches 'historical' output cut in Algiers meeting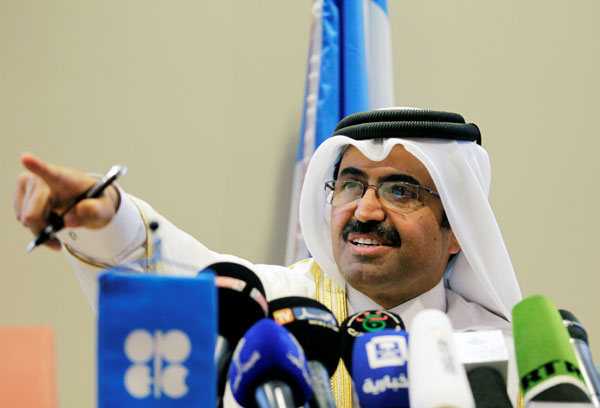 OPEC President, Qatar's Minister of Energy Mohammed bin Saleh al-Sada speaks during a news conference after an informal meeting between memebrs of the Organization of Petroleum Exporting Countries (OPEC) in Algiers, Algeria September 28, 2016. [Photo/Agencies]
ALGIERS -- The Organization of Petroleum Exporting Countries (OPEC) on Wednesday reached a "historical" agreement to ceil oil output from 33.24 million barrels a day to 32.5 or 33 million barrels a day.
President of OPEC Mohammed Bin Saleh Al-Sada told a press conference after a six-hour extraordinary meeting that the cartel's members reached the agreement to cap the oil output.
The OPEC official hailed the efforts made by Algeria, "which offered such an opportunity to gather us and decide on a crucial issue related to oil market."
Al-Sada noted that the participants agreed to set up a committee to consider the output share of each member nation, and then file a report to the next OPEC meeting due in Vienna in November.
He further indicated that the committee is also meant to coordinate a collective agreement between the cartel's members in a bid to accelerate the process of rebalancing the oil market, saying both OPEC and non-OPEC producers (in reference to Russia) have to share the burden of adjusting the output.
When asked whether the Algiers meeting outcomes would push oil prices higher, he noted that market is the only factor that controls the prices.
Earlier on Wednesday, reports suggested that Algeria has proposed the members of OPEC to cut oil outputs by 796,000 barrels a day.