Chavez 'very optimistic' of recovery
CARACAS - Venezuelan Vice-President Nicolas Maduro said Tuesday ailing President Hugo Chavez is optimistic about his recovery from recent cancer surgery in Cuba and confident in his medical team.
"I am very optimistic and have full confidence in the treatments I am undergoing, we will beat this again, I am holding on to Christ and to life," Maduro said Chavez told him and Foreign Minister Elias Jaua, as they were leaving his bedside last week for a trip to Chile.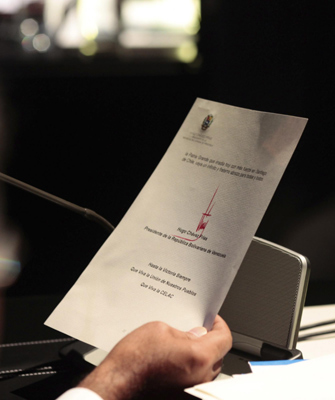 Venezuela's Vice President Nicolas Maduro reads a letter from President Hugo Chavez at a general meeting at the summit of the Community of Latin American and Caribbean States (CELAC) in Santiago, Jan 28, 2013. The letter reads: "Onwards to victory. Long live to the unity of our people. Long live CELAC". [Photo/Agencies]
Chavez, who underwent a fourth cancer operation Dec 11 and has remained hospitalized since, was declared cancer free last year prior to being reelected in October. He was first diagnosed with cancer in June 2010.
Maduro spoke of Chavez's condition at the opening of a preschool named after the president's maternal grandmother, in the city of Sabaneta, Barinas state, the president's birthplace.
Maduro said he conversed with Chavez prior to leaving for Chile to attend the first Summit of Latin American and Caribbean States (CELAC) and the European Union (EU), and that Chavez showed great strength and optimism.
Chavez, whose prolonged absence has mobilized the conservative opposition, relayed a warning to Venezuelans to stay alert to any right-wing attempts against his government, said Maduro.
"He told us: 'Don't let down your guard, be careful, warn the people, because there is still a long way to go to consolidate the nation,'" Maduro said.
Named in honor of Rosa Ines Chavez, the Mama Rosa Early Education Center is housed in the president's childhood home.
"That boy who was educated here in these streets became a world leader," Maduro said at the inauguration of the school.
Also attending the ceremony was Adan Chavez, governor of Barinas state and a brother of Hugo Chavez's, who recalled " Grandmother taught us to read from a very early age. When Hugo and I went to school, at the age of six, we already knew how to read and write, and that's what grandma Mama Rosa made sure of."
Prior to leaving for Cuba, Chavez urged Venezuelans to vote for Maduro should he become incapacitated and new elections are called.