Red Arrows hit the mark with smart talk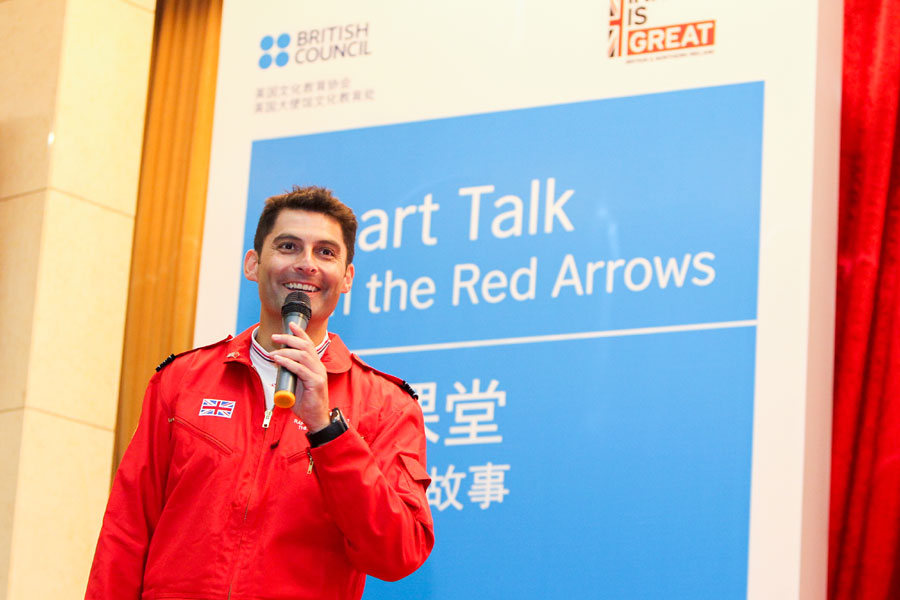 David Montenegro, squadron leader of the Red Arrows, speaks during a talk in Beijing, Oct 25, 2016. Photo provided to chinadaily.com.cn
People got an opportunity for face-to-face interaction with the Red Arrows as the British royal aerobatic team landed in Beijing on Tuesday and revealed the life of the world's top-level stunt pilots.
It is the first time that the Red Arrows, officially known as the Royal Air Force Aerobatic Team, are visiting China and the members are all excited about the forthcoming Airshow China in Zhuhai, South China's Guangdong province, next month, where they will make a debut performance.
"We've never seen performance of your team (Bayi Aerobatic Team of PLA Air Force). So I'm very looking forward to it during the air show," said David Montenegro, squadron leader of Red Arrows.
Being part of one of the world's most prestigious teams, the pilots feel really honored and admitted that they face challenges every day.
It takes years of dedication, training and service as a Royal Air Force officer before a pilot can apply to join the team. And all candidates need to be fast-jet pilots with huge experience of flying frontline aircraft.
Flying is only one aspect of a Red Arrows pilot's duties – they must also be excellent communicators, act as national ambassadors, carry out media work and represent the Royal Air Force at important occasions.