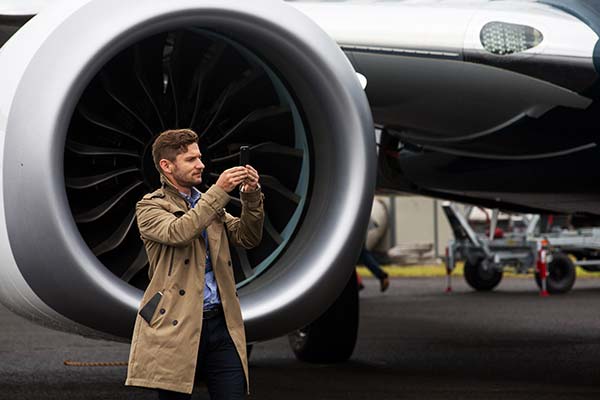 A reporter uses a smartphone to take photographs of an aircraft during preparations ahead of the Farnborough International Airshow 2016 in the United Kingdom, on July 10, 2016.[Photo/Agencies]
Airbus SAS is set to announce a key order for eight to 10 of its biggest twin-engine model, the A350-1000, from Virgin Atlantic Airways Ltd after beating Boeing Co to a scarce order for big jets as economic and political uncertainties overshadow the Farnborough Airshow.
The order, worth some $3 billion at list prices, could perk up Monday's opening of an event clouded by geopolitical uncertainty, including Britain's decision to leave the European Union and concerns over the state of the global economy.
British Prime Minister David Cameron was scheduled to attend the opening day and finalize multibillion-dollar deals with Boeing to buy nine P-8A Poseidon maritime patrol planes and to upgrade 50 Apache helicopters.
Industry sources said Airbus's A350-1000 deal with Virgin Atlantic provided a shot in the arm to a 366-seat model promising greater efficiency but whose sales have slowed as Boeing develops a larger version of its 777, prompting a game of leapfrog between the only two makers of long-haul jets.
Airbus declined to comment and Virgin Atlantic was unavailable to comment.
Airbus and Boeing have enjoyed years of strong demand, helped by rising airline travel particularly in Asia and the Middle East and new, more fuel-efficient planes.
But with the industry's order backlog standing at a record 13,500 planes at the end of 2015, or 9.6 years of production at current rates, analysts are worried that economic risks-from slowing growth in China to Britain's move to leave the EU-could see orders dry up and some even canceled.
Larger, more expensive twin-aisle planes are likely to be most at risk.
Indeed, industry sources said Virgin Atlantic, which has long deferred an order for six of Airbus's A380 superjumbos, looked set to finally cancel it.
The head of Boeing Commercial Airplanes, Ray Conner, said the company was facing slower demand for widebody jets and would be vigilant about matching supply to demand, though it was too early to say whether it would again cut output of its 777.
Reuters