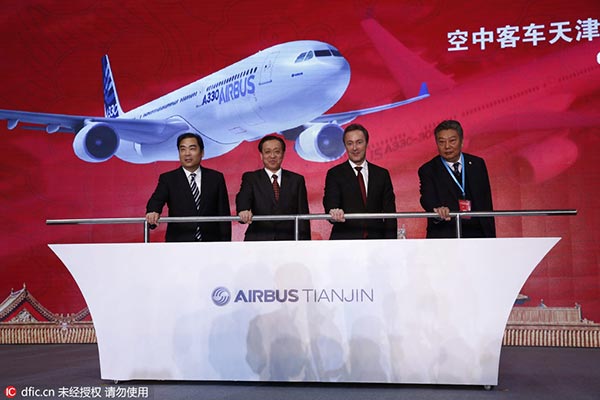 (L-R) Tianjin Vice-Mayor Duan Chunhua, National Development and Reform Commission Vice-Minister Lin Nianxiu, Airbus President and CEO Fabrice Bregier and Aviation Industry Corporation of China president Lin Zuoming lead a ground-breaking ceremony for an A330 Completion and Delivery Center at Airbus Tianjin facilities in Tianjin municipality, March 2, 2016. [Photo/IC]
Construction of an Airbus A330 completion and delivery centre in Tianjin began on Wednesday.
The project is a joint venture between Airbus SAS, Tianjin Free Trade Zone and Aviation Industry Corporation of China, which signed the framework agreement in 2014 and confirmed it last year.
The first A330 to be completed in the center will be delivered in September 2017, according to Airbus' plan, and the production rate of the center will be two planes monthly, a year after it opens.
The center, at the same site as the Airbus Tianjin A320 Family Final Assembly Line, will cover aircraft completion activities including cabin installation, painting and flight testing, as well as delivery.
The aircraft, which will be completed in Tianjin, will be assembled in Toulouse, France, and then fly to Tianjin for painting, cabin fitting and delivery.
At present, the in-service Airbus fleet with Chinese operators comprises more than 1,240 aircraft, including more than 170 A330 Family and in excess of 1,000 A320 Family aircraft.
China owns the largest A330 fleet in the world.