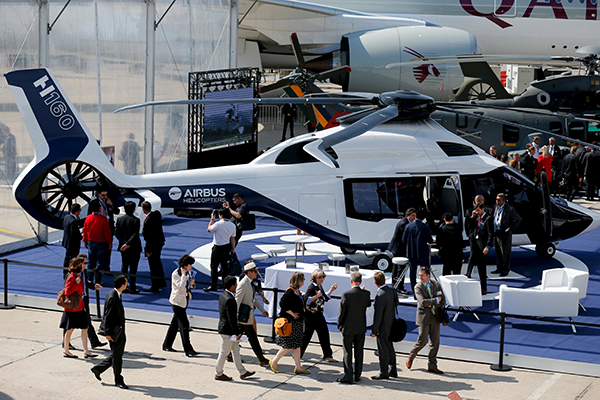 Visitors take a look at a H160 Airbus Helicopter during the 51st Paris Air Show at Le Bourget airport near Paris on June 17. [Photo/Agencies]
BEIJING - A Chinese consortium has ordered 100 H135 twin-engine helicopters from Airbus Helicopters and will build a final assembly line in Qingdao, east China's Shandong Province, Airbus said Monday.
The consortium is made up of China Aviation Supplies Holding Company, Qingdao United General Aviation Industrial Development Company and CITIC Offshore Helicopter Co. Ltd, Airbus said in a press release.
This fulfills a commitment to purchase 100 H135 made in 2015, the company said.
"With the further opening up of the Chinese skies and the increasing growth in the civil and parapublic segments, China is gearing up to be the biggest market for helicopters in years to come," said Norbert Ducrot, head of Airbus Helicopters China and North Asia region.
The final assembly line is expected to start operations by 2018 and assemble 100 H135 over the next 10 years.
The H135 is popular in China for emergency medical services, law enforcement, fire fighting and corporate transportation.