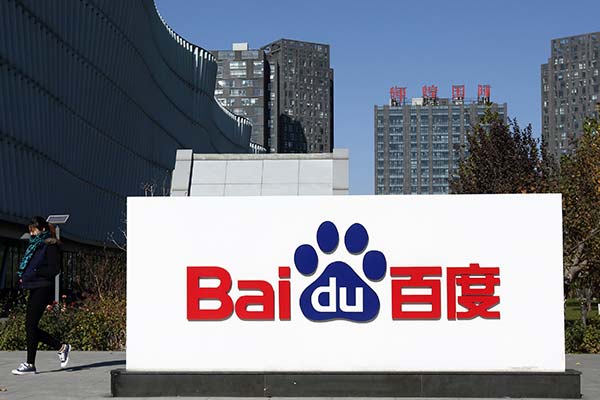 The Baidu Inc logo is displayed outside company's headquarters in Beijing, Nov 12, 2014.[Photo/VCG]
Analysts estimate the additional 3% tax will hit bottom line profits of Baidu and Alibaba
Some of China's biggest internet companies may see their earning taking a hit from a new regulation, as the country takes a firmer grip on search advertising.
The State Administration for Industry and Commerce on Friday released the new regulation, which for the first time classifies paid searches as internet advertising. Analysts said that the revenue could be subject to an additional 3 percent culture-cultivation tax.
Such a move could force Baidu Inc, which runs China's biggest online search engine, to cut its fiscal 2017 net income to 16.3 billion yuan ($2.4 billion), according to analysts at Daiwa Capital Markets HK Ltd led by John Choi.
That estimate is about 4 percent below the average of estimates compiled by Bloomberg.
About 50 percent of e-commerce giant Alibaba Group Holding Ltd's revenue in the first quarter would be affected, suggesting a 2.4 percent hit to earnings, wrote Hong Kong-based Choi.
"We would expect the market to cut its 2017-19 earnings forecasts for Baidu and Alibaba, given the additional surcharge burden," Choi said in a report.
The new regulation, which will take effect on Sept 1, is seen as the government's increased effort to oversee the country's $23.2-billion internet advertising market, which was under media scrutiny earlier this year after the death of a college student, who sought out a treatment for his rare disease on Baidu's search results.
Baidu said in a statement that the company would fully implement the new regulations. Alibaba said in a statement that if its pay-for-performance ads were charged a 3 percent fee, the impact of on its margins would be in the "low single digit" range as its revenue channels are becoming more diversified.
Analysts said the regulation would have positive impact on the Chinese online advertising industry. That is because it makes it clear that advertising publishers have the obligation to review ad contents-and advertisers from certain industries such as healthcare will have to obtain relevant licenses from watchdogs before they can do online advertising, said Jialong Shi, head of Nomura China Internet and Media Research.
"But being officially classified as an ad service, internet search operators will have the new obligation to review the paid search results which Baidu indicated in its 2015 annual report as 'being burdensome'," Shi said.