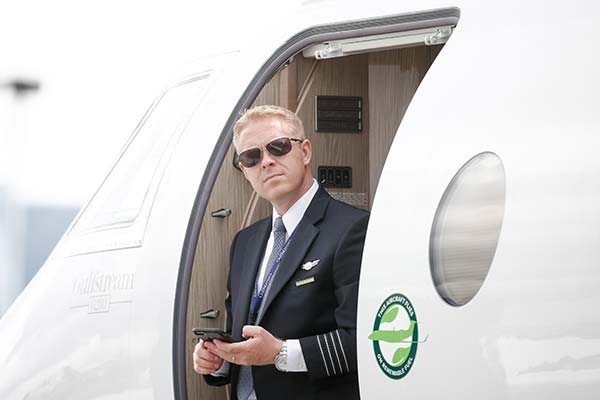 A pilot stands at the entrance to a Gulfstream G280 business jet manufactured by Gulfstream Aerospace Corp, a unit of General Dynamics Corp, on the opening day of the Farnborough International Airshow 2016 in Farnborough, the United Kingdom, on Monday. The airshow, a biannual showcase for the aviation industry, runs until July 17.[Photo/Agencies]
Leading aviation and avionics firms court global majors even as Airbus, Boeing woo domestic airlines
China's participation in this year's biannual Farnborough International Airshow, one of the most important showcases for the world aviation industry, is the biggest ever, according to the organizers.
The July 11-17 show is featuring a Chinese pavilion hosting some of the country's leading aviation and avionics firms.
Also, Xiamen Airlines signed an agreement to buy up to 30 Boeing 737 MAX 200 aircraft, worth as much as $3.39 billion at current prices.
A bigger deal was between Boeing and Donghai Airlines, which signaled its intention to buy 25 Boeing 737 MAX-8 jets and five 787-9 Dreamliners, potentially worth $4 billion. Cargo carrier Donghai is planning to transition to a passenger airline.
Wong Cho-Bau, chairman of Donghai, said in a statement: "Under the Belt and Road Initiative, we will accelerate our fleet expansion plan to satisfy the rapidly growing air travel market and help build our home base at Shenzhen as the transportation hub for southern China."
On Tuesday, Boeing Co and Kunming Airlines signed an agreement for 10 737 MAX 7 airplanes at the show.
At the airshow on Monday, Airbus China CEO Chen Juming said the economic center of the aviation industry has been "shifting eastward" over the past 20 years.
"Half of our orders are from Asia, and half of Asia's orders come from China," Chen said.
Jetliner giant Airbus SAS, based in France, released its Global Market Forecast on Monday. It predicted the world will need 33,000 new passenger and cargo aircraft worth $5.2 trillion over the next 20 years as Asia's aviation markets expand. China is forecast to have the world's biggest civil aviation market within the next decade.
John Leahy, Airbus chief operating officer for customers, said: "We are ramping up production to meet market demand for our leading aircraft products."
In a separate report, Airbus competitor Boeing predicted that 15,130 new aircraft would be sent to Asia over the next 20 years, making it the leading region in terms of orders.
Among the Chinese firms exhibiting at Farnborough include AviChina Industry and Technology Co, Aviage Systems, Western Superconducting Co, China Aviation Industrial Base, China Aviation News, China General Aviation Industry, Baoji Titanium Industry, Shaanxi China Aero Industry Gas Spring Co, Tipro International Co, Wuxi Blade Co and COMAC, maker of the C919, China's first-ever indigenous medium-haul jetliner.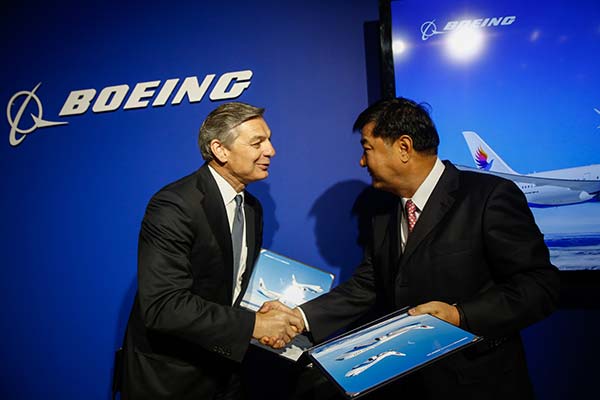 Ray Conner, CEO of Boeing Co's commercial aircraft unit, shakes hands with Wong Cho Bau, chairman of Donghai Airlines Co Ltd, at the Farnborough International Airshow in Farnborough, UK.[Photo/Agencies]
The C919 is set to make its maiden flight later this year, with the first production model due to enter service in 2018. It is powered by two Franco-American CFM International engines.
"Participation (at the Farn-borough show) will open many doors for more commercial trade between the Chinese aerospace supply chain and the many global organizations that attend the show," said Amanda Stainer, the show's commercial director.
The European Project Innovation Center will be hosting a conference during the show on aerospace opportunities for China's Belt and Road Initiative, which envisages maritime and land links with Europe along the lines of the ancient Silk Road.
Chinese firms have doubled the amount of space taken for exhibitions, lining up alongside the two civilian aviation industry giants, Europe's Airbus and Boeing of the United States.
China plans a major expansion, which includes the construction of another 300 airports by 2020, roughly double the existing number.
China is regarded as a major growth area for aviation, and Phil Seymour, chief operating officer at the International Bureau of Aviation, an independent consultancy, said "China's aviation market is looking bright".
Last month, Airbus announced it had signed a contract with a Chinese consortium to manufacture its H135 helicopter in Qingdao, Shandong province.
The twin-engined helicopter will be made by China Aviation Supplies Holding Co and Qingdao United General Industrial Development Co, with Airbus forecasting that China will become one of the largest markets for civil helicopters by 2020.
The airshow, staged at Farnborough in the Surrey countryside 40 kilometers southwest of London, will see a variety of static and flight displays.
Airbus is showing its giant two-deck jumbo the A380, already in service with a variety of airlines including and used mainly on Asia and Australian routes.
Boeing plans to showcase its all-composite 787 Dreamliner.
Farnborough is a major venue for aircraft and engine sales, and at the last show in 2014, aircraft and engine orders worth $204 billion were made.
Wang Mingjie in Farnborough contributed to this story.