Turkish troops kill 17 IS militants since Mosul operation: FM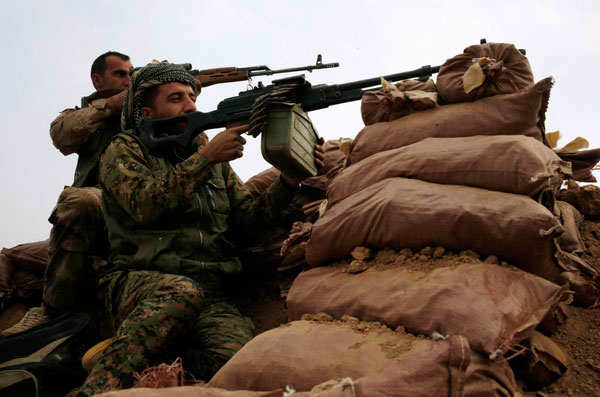 Kurdish Peshmerga fighters take their position during a battle with Islamic State militants at Topzawa village near Bashiqa, near Mosul, Iraq, October 24, 2016. [Photo/Agencies]
ANKARA -- Turkish artillery fire has killed 17 Islamic State (IS) militants since Mosul offensive began, Turkey's Foreign Minister Mevlut Cavusoglu said on Monday.
Turkey has been making "multiple contributions" to the operation to retake Mosul from IS, the minister said at a press conference with French Foreign Minister Jean-Marc Ayrault, local Hurriyet reported.
Four F-16 fighters jets are under the command of anti-IS coalition forces, he stated.
Turkish troops in a military training camp in Bashiqa region have killed a total of 700 IS militants so far, the minister added.
Turkey will be more active in fighting outlawed Kurdistan Workers' Party (PKK) elements in northern Iraq, he said, adding that Ankara will not allow Sinjar region near Mosul to become a "second Qandil," which is the headquarter of PKK in the neighboring country.
Baghdad has objected to the presence of over 600 Turkish troops in Bashiqa, which train local Sunni Arab and Kurdish forces. Ankara refused to retreat those soldiers and pushed to play an active role in the ongoing offensive in Mosul.