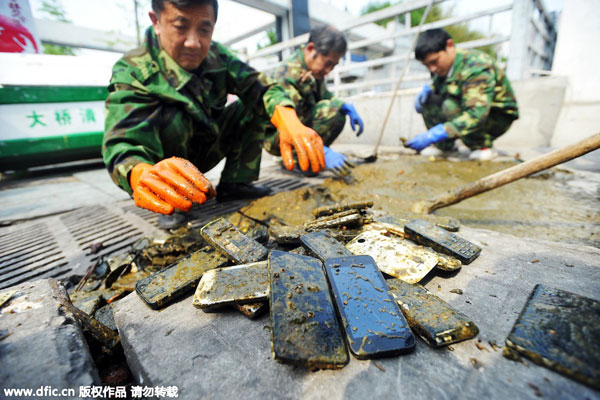 Cleaners discovered phones in a public toilet near a railway station in Wuchang, East China's Jiangxi province, during a cleaning operation on April 27. [Photo/IC]
30 phones found in public toilet
Cleaners delved into the sewers of a public toilet and were surprised at their incredible finds.
More than 30 phones were discovered in a public toilet near a railway station in Wuchang, East China's Jiangxi province, during a cleaning operation on April 27, dfic.cn reported.
Besides phones, some of the other objects found included a key ring, a pair of glasses, a toy car and coins. According to the cleaner, surnamed Sun, he even found a small notebook computer once.
Cleaners have called on users not to throw litter inside the toilets and to be careful about accidentally dropping personal items. Maybe next time you go to the toilet, think twice about bringing your precious mobile phone with you!
That's all for today's trending, do check back tomorrow for more!