Editor's note: Billions of Spring Festival e-envelopes exchanged on WeChat led to sleep loss, broken electronics and even injuries as people rushed to shake them open. We gather the craziest stories from the e-envelope madness.
The electronic "lucky money" is a trendy spin on the Chinese tradition of giving red envelopes, or "hongbao," filled with money to children on Lunar New Year's Eve. The custom is more than 1,000 years old.
More than 3 billion red envelopes were sent and received online via WeChat, the most widely used mobile messaging application in China. It also showed that 3.27 billion red envelopes had been sent and received by WeChat users between Feb 18 and Feb 23 with 1.01 billion of them being exchanged online within 24 hours on Feb 18.
At the peak period, which came in the first two minutes on Feb 19, as many as 1.65 million red envelopes were opened on WeChat every 60 seconds.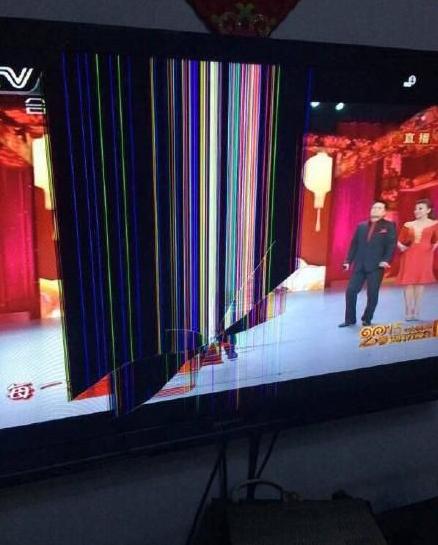 The cracks on Xue's TV screen on Feb 18. [Photo/gmw.cn]
'I cracked my phone and my TV'
A man surnamed Xue in Xi'an city, Shaanxi province experienced a bittersweet Spring Festival this year, thanks to Shake the Envelope, an interactive game for getting gift money launched by Chinese social platform WeChat.
On the Spring Festival Eve, Xue kept shaking the envelopes on WeChat while he waswatching the Spring Festival Gala on TV.
Unfortunately, not only did he not get to know if he got any envelopes, he dropped his phone accidentally on the floor and the phone bounced against the TV screen. In a second, the screens of both of his phone and his TV cracked.
Pulling an all-nighter for 'lucky money'
A girl from Huai'an in Jiangsu province has her own 'lucky money' story.
Her colleagues and bosses set up some groups on WeChat especially for giving and receiving 'lucky money' among themselves for fun. She trained her eyes to spot the newly released red envelopes and clicked in the hope of receiving random 'lucky money' from her colleagues.
On the Spring Festival Eve, one of her bosses said he would send a red packet with an impressive amount of money at four o'clock in the morning, which attracted many of the employees to wait.
They waited excitedly until four while their boss was annoyingly quiet in the group. The next morning, they heard that their boss got drunk last night and went to bed at 12:00 am, four hours earlier than what he promised.
The boss finally sent a red envelope of 1,000 yuan ($166) to the group and some lucky employees got different amounts of the total.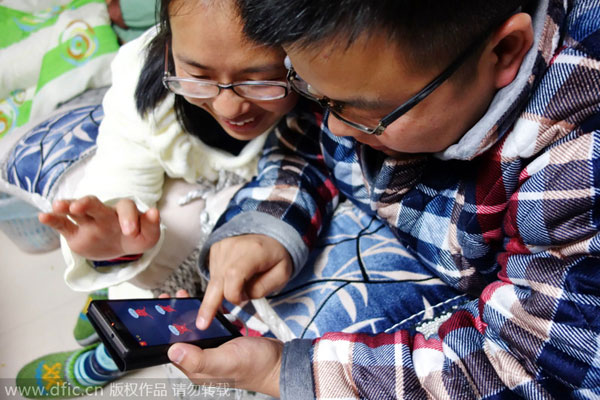 Chinese phone users send hongbao (red envelope) to friends by the Alipay Wallet mobile payment services of Alibaba Group on a smartphone on Chinese New Year's Eve in Suichuan county, East China's Jiangxi province, February 18. [Photo/IC]
Wife annoys husband with e-envelope obsession
A wife in Nanjing, Jiangsu province developed her own ritual for being the first to receive e-envelopes during the Spring Festival.
According to her husband, she sat herself nearest to the WIFI router for the fastest internet speed, never locked her phone and kept active on WeChat.
Her husband was very upset with the situation, saying, "How much do you get from those red envelopes? Let me give it to you then you stop it and talk to me."
The wife felt quite guilty but couldn't help herself. She thought the envelope exchange was all in good fun.
E-envelope shaking syndrome
Shaking out e-envelopes may make you slightly richer, but not necessarily healthier. A college student in Guangzhou found himself developing dry eyes, shedding tears constantly and having shaky hands after four consecutive days of shaking out e-envelopes. He had to go to the doctor. The doctor diagnosed him as overusing his cell phone. According to the doctor, cell phone overuse leads to neck cramps and dizziness, and is bad for the spine.
A woman in Nanjing, Jiangsu province could not rotate her neck and hurt her waist after shaking out e-envelopes on WeChat all night with three phones at the same time.
A man, aged under 25, kept using his phone to send and receive gift money from WeChat for more than four hours a day during the Spring Festival. On the fourth day of the holidays, his right thumb and index finger went stiff and he could barely hold chopsticks. He was diagnosed with tenosynovitis due to the repetitive action of clicking on the phone.