Hello dear readers:
This is the last edition of Trending Across China for the Year of the Horse. We are very proud of presenting non-stop trending stories everyday during the previous Lunar Year, offering you the most quirky, interesting, heartwarming stories happening around China. We will resume our coverage of what's trending on Feb 25. We hope to see you back with us on this journey in the Year of the Sheep!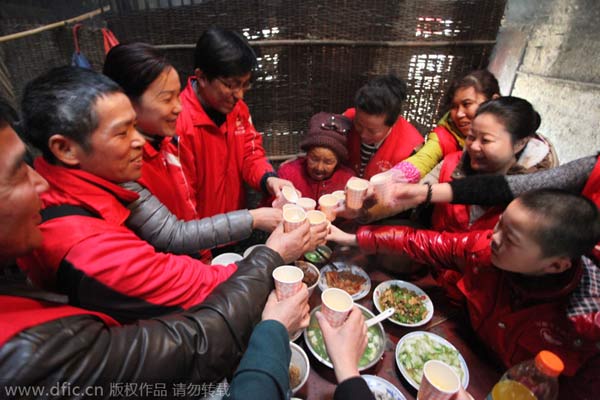 Volunteers from Jiujiang province toast an elderly Su Guiying at dinner. The volunteers visited the 90-year-old at her home on Feb 15, two days before the Spring Festival holiday, to spend some time with the lonely lady. [Photo/CFP]
Volunteers bring Spring Festival cheer to 90-year-old with no family
After media reports of a 90-year-old of no family asking for company during Spring Festival surfaced, people from all walks of life visited her to fulfill her wish, local news platform jxnews.com.cn reported on Tuesday.
Su Guiying, in Hongxia village, Jiujiang city of Jiangxi province, gave birth to 17 children from three marriages, all of whom died from premature births. After her third husband died, when she was in her 40s, she never married again but adopted three kids. Two of her adopted children were taken back by their biological parents. More than 20 years ago, her only daughter that she raised for 17 years, left her to her biological parents. She has since visited Su once.
Su has been living alone since her daughter left. She receives 100 yuan per month from the village government, and eats sweet potato porridge everyday. When villagers hold wedding dinners or other rituals, they would give her some food.
On Feb12,photos of her daily life went viral online. The next day, volunteer groups, charities and individuals arrived at Su's home, bringing food, clothes, daily necessities, and cash at her home. Most importantly, they spent time with her. They putting up festive decorations around her house, and had a big dinner with her.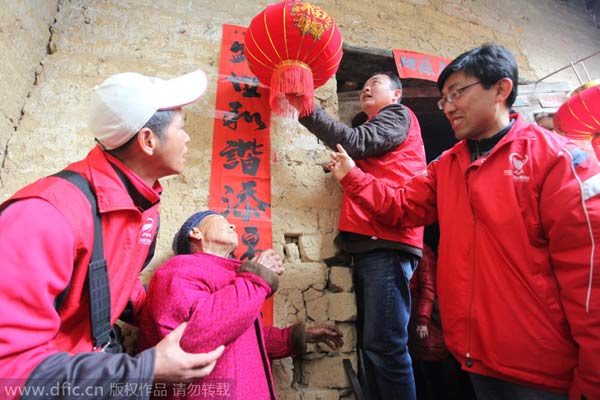 Volunteers put up festive decorations around Su's home, on Feb 15, two days before the Spring Festival holiday. [Photo/CFP]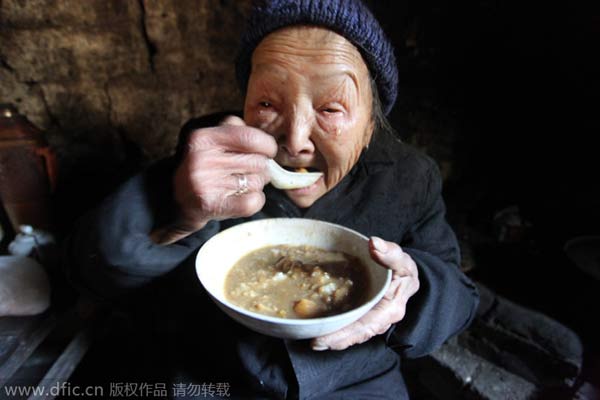 Su eats sweet potato porridge, her daily meal, alone at her home, on Feb 12. [Photo/CFP]
Next, a couple fights over lucky money ending up smashing up their phones.