Passenger in 'watermelon helmet' caught, driver shows 'permission' to drive drunk, woman cheats death, zoo employees torture tiger cub, dancers pelted with steel balls.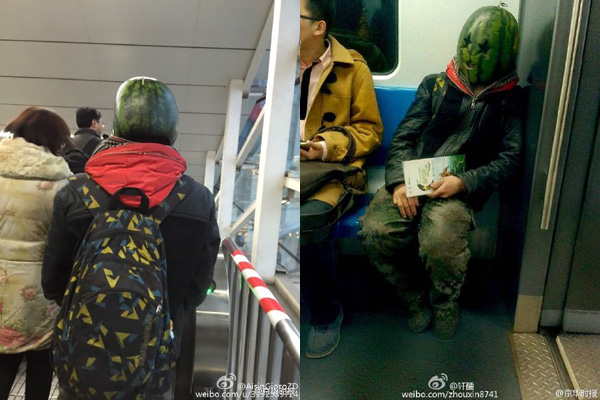 A man wearing a watermelon helmet on Beijing subway. [Photo/Sina weibo]
Watermelon guy on Beijing subway nabbed
Spotted – a man wearing a "watermelon helmet" riding alone on Beijing subway. He was often seen on several lines, including 1, 2, and 5, according to Beijing Morning Post.
On Tuesday night though, when the melon guy walked through the carriages with two bottles of wine in his hands and smelling of alcohol, some passengers felt uneasy and informed the police.
The photos found their way to Sina Weibo, Chinese version of Twitter. Some called it performance art, while others said it was a publicity stunt.
Find out how a driver got 'permit' to drive drunk in our next story.