Hurdler Liu Xiang's father confirms son's marriage; chestnut seller makes classical apology and rustler ready to drop after long march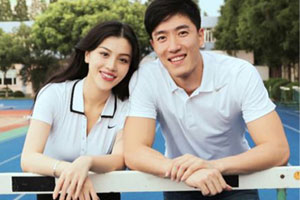 Liu Xiang marries
Former Olympic hurdles champion Liu Xiang posted a photo of himself and a woman leaning on a hurdle with a caption reading "My beloved; her and it" on Tencent Weibo, a social media platform Tuesday morning, sparking wide attention from Chinese web users.
The official Weibo account of Sina Sports channel said Tuesday afternoon, according to Liu's father, his son has already married the woman in the image, an actress named Ge Tian, and has the marriage certificate.
Related:
Liu Xiang promotes Laureus World Sports in Shanghai

Apology offered in classical Chinese
A small chestnut store owner posted a notice, written in classical Chinese, on his door apologizing to customers after he found his chestnuts were of poor quality, The Beijing News reported.
The apology drew netizens attention and has been forwarded more than 10,000 times in one day with 5,000 comments. Netizens teased the owner, saying such things as: "the owner was a noble of his industry", "he just wanted to make an excuse for moon cake festival leave" and "it is really hard for people who major in Chinese literature".
Related:
Chestnut, peanut and rice farmers of China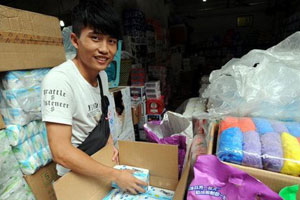 Selling sanitary pads to men
It's unknown whether Li Yuanhao has ever read The Greatest Salesman in the World, hailed as the bible for salesmen, but the young man has his own way of selling sanitary pads to men.
Li, a junior student from Southwest University in Chongqing, sold sanitary pads to fellow students as shoe insoles and made more 600 yuan ($97.8) within two days according to chinanews.com. His customers were male freshmen starting military training which involves a lot of sweating. Li went to a market to buy sanitary pads and peddled his products in dormitories over the weekend.
Related:
Student profits from selling wifi on train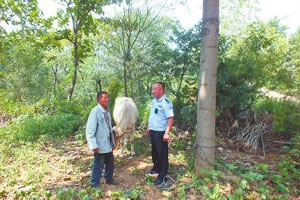 Rustler caught after walkathon
A rustler was caught by police after walking about 96.5 km away from the scene of his crime in Central China's Henan province, Dahe Daily reported.
The wrongdoer, 57, surnamed Zhang, stole a cow from Sanmenxia city and walked for more than 10 hours. When asked by police how he was feeling, Zhang said: "The cow is fine, but I feel exhausted to death". He was only released last year after serving six years for cattle theft.
Related:
Alleged thief tries to steal from 2 policemen

Students rebel against self-cleaning campaign
Garbage has piled up in some dormitories at Nanchang University after it said that students should clean dormitories and toilets themselves this semester, Southern Metropolis Daily reported on Monday.
The university came up with the idea to improve students' "sense of ownership", but it triggered controversy among the students.
Related:
University student opens China's first e-reading café