Man hires crane for fish tank, pine-like lightning rods on Great Wall, mirrors on building reflect dislike
Crane delivers fish tank to apartment
Resident of Jilin City, Jilin province, rented a crane to deliver a huge fish tank through his window to his 15th story apartment on Monday, enews.xwh.cn reported on Wednesday.
The fish tank was about 2 meters long, with both width and height measuring 1.5 meters, which was too large to go through the staircase or the elevator, according to a witness surnamed Li. Another witness Liu said the owner of the fish tank spent 3,000 yuan ($488) to hire the crane from Changchun, the provincial capital over 100 kilometers away from Jilin.
Related:
Fish released into Lugu Lake to protect water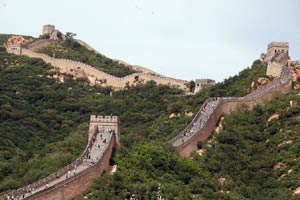 Pine-like lightning rods on Great Wall
Twelve pine-like lightning rods will be installed along the unopened Great Wall sections in Badaling by the end of this year, according to The Beijing News on Wednesday.
In order to protect hikers and tourists from being hit by lightning and to maintain the landscape of the Great Wall, these 15-meter-tall lightning rods were designed like pines with each costing 200,000 yuan ($32,549), said Ding Haitao from the office of Badaling area.
Related:
The Great Wall poorly preserved

Rural resident builds plane with hand
Guo Xueguang, a rural resident from Henan province, has handcrafted a small fixed-wing aircraft which can fly as high as 3,000 meters, the Henan Daily reported on Wednesday.
The aircraft that Guo made in Tianjin cost him 60,000 yuan ($9,768) and nine months of work. It has undertaken 10 flights lasting 38 minutes in total.
Guo said after further test flights the aircraft will be sent back to his hometown to provide wedding and crop-spraying service for rural residents.
Related:
Drone hobbyists taking off in China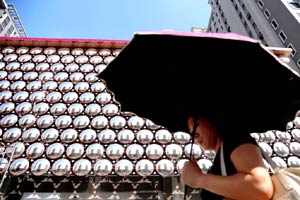 Mirrors on building reflect dislike
Exterior of a building covered with countless identical round convex mirrors in Shenyang, the capital of Northeast China's Liaoning province, is reflecting lots of feelings of both passersby and neighbors..
While the building is drawing much attention, the neighbors directly across the street can't hide their dislike.
According to Chinese folklore, mirrors can be used to reveal evils. Some locals are not sure about the use of the curtain wall with mirrors and feel quite uncomfortable.
Related:
Clear as a mirror: fascinating scenes of China's 7 lakes

Foreigner sought for good Samaritan award
An unknown foreigner who saved a woman from a river in Nanjing on Aug 17 was praised for the action by local people, and police are looking for him so they can honor him with a good Samaritan award, Modern Express reported on Tuesday.
After rescuing the young woman who fell into the water from a bridge, the foreigner left without giving his name and nationality.
Related:
'Good Samaritan' protections proposed