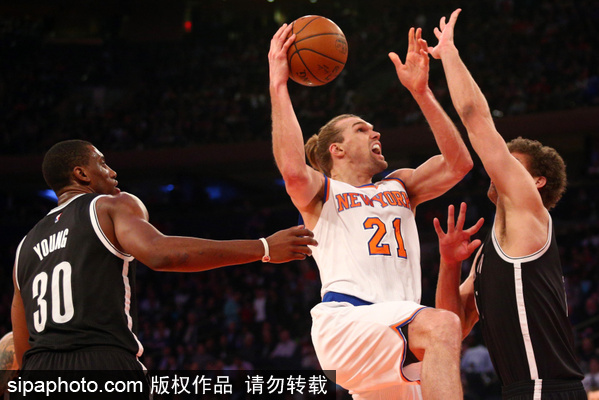 New York Knicks power forward Lou Amundson (21) drives against Brooklyn Nets center Brook Lopez (11) and Nets small forward Thaddeus Young (30) during the third quarter at Madison Square Garden in New York, April 1, 2015. The Nets defeated the Knicks 100-98. [Photo/SIPA & Brad Penner-USA TODAY Sports]
NETS 100, KNICKS 98
Brook Lopez's follow shot with 2 seconds left gave the Brooklyn Nets their fifth straight victory and a share of seventh place in the Eastern Conference, as they beat the New York Knicks.
The Nets blew a 16-point, second-half lead but escaped what could have been a crushing loss thanks to Lopez's effort on the boards on their last possession.
Deron Williams had 26 points, seven rebounds and seven assists in one of his best games of the season. And when he missed in the lane with the game tied at 98, Lopez tipped the ball once, then knocked it in on his second attempt.
Andrea Bargnani scored 22 points for the Knicks, who lost their eighth straight.