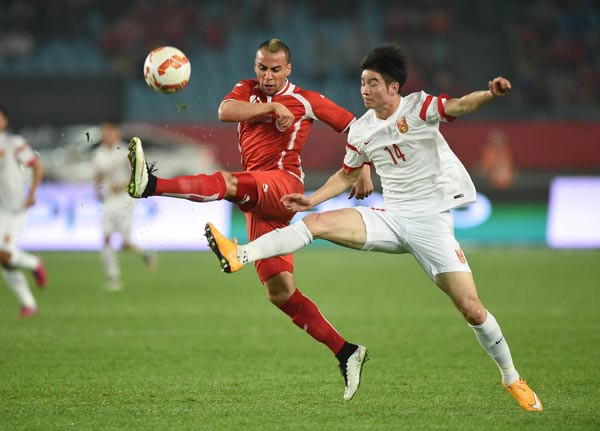 China's Ji Xiang, right, fights for the ball with a Tunisian player during their international friendly, March 31, 2015. [Photo/Xinhua]
NANJING - Substitute forward Yu Dabao's goal in the injury time salvaged a 1-1 draw for China against Tunisia at the Nanjing Olympic Sports Center on Tuesday.
Tunisia broke the deadlock on 39 minutes with a header following a pinpoint left wing cross. Saber Khalifa missed a penalty after the interval, when Chinese goalkeeper Wang Dalei parried his shot.
Yu Dabao, who levelled the score in the hosts' 2-2 draw with Haiti on Friday, again played the role of hero as a second-half substitute. After striker Gao Lin's freekick from the edge of the area slipped from the hands of Ben Mustapha, Yu dashed into the right place timely and drove home.
China played with better organization and more chances in the first half. Wu Lei received a clinical through pass from midfielder Wu Xi to face Mustapha, only to find his powerful shot targeting the near corner denied by Mustapha's shoulder. Wu Xi and Feng Xiaoting wasted two other good chances. Feng's header towards an empty net was cleared by Maher Hannachi on the goal line.
The visitors had opportunities in the first half as well. Khalifa's 20-min tapping shot flew over the bar, before Yassine Khenissi's foray into an empty net following a nice move to round down keeper Wang Dalei was cleared by a sliding Ren Hang.
The Tunisians seemed to have problems with their stamina in the latter second half. Several Tunisian players had to leave the pitch after cramps on their legs.
China coach Alain Perrin brought in several attacking players and the hosts launched more threatening attacks in the closing moments. But Mei Fang's header from a corner went high and Yu Dabao's left foot shot inside the box also missed the target.