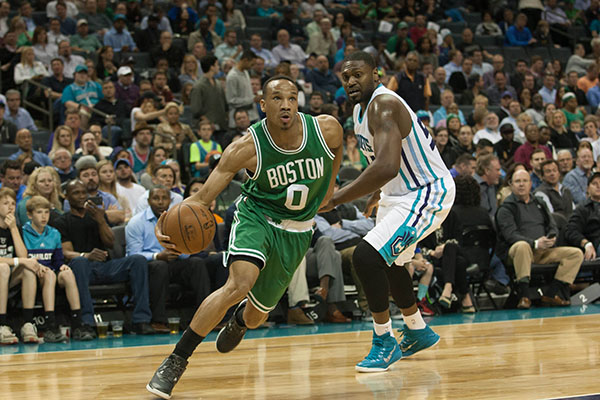 Boston Celtics guard Avery Bradley (0) drives the ball inside passed Charlotte Hornets forward Jason Maxiell (54) during the second half at Time Warner Cable Arena in Charlotte, Mar 30, 2015. The Celtics defeated the Hornets 116-104. [Photo/Agencies & Jeremy Brevard-USA TODAY Sports]
CHARLOTTE, North Carolina - Avery Bradley had 30 points and eight rebounds as the Boston Celtics beat the Charlotte Hornets 116-104 on Monday night for an important Eastern Conference victory.
Evan Turner scored 15 points as the Celtics won for the 10th time in the last 16 games. Jae Crowder and Marcus Smart each had 14 points.
Boston moved back into eighth place in the conference standings, a few percentage points ahead of Brooklyn in the battle for the East's final playoff spot.
Kemba Walker led a furious fourth-quarter comeback that fell short, finishing with 28 points and 12 assists. Gerald Henderson added 17 points for Charlotte, which has dropped four of its last five games.
Charlotte's loss clinched a second straight playoff berth for the Washington Wizards.