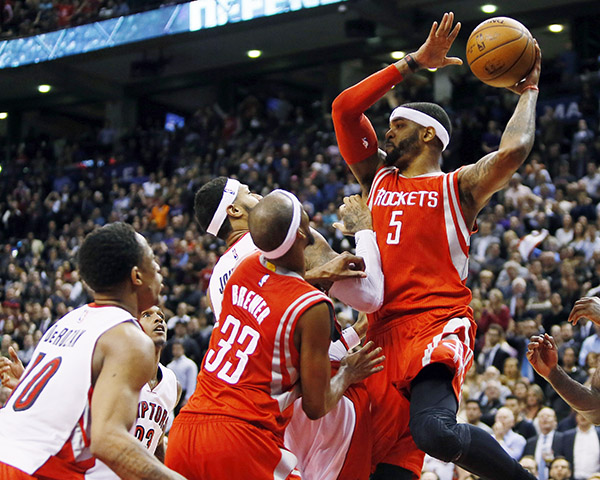 Houston Rockets forward Josh Smith (5) goes to pass the ball as Toronto Raptors guard DeMar DeRozan (10) and forward James Johnson (3) defend as Houston Rockets guard Corey Brewer (33) helps out at the Air Canada Centre in Toronto, Mar 30, 2015. Toronto defeated Houston 99-96. [Photo/Agencies & John E. Sokolowski-USA TODAY Sports]
RAPTORS 99, ROCKETS 96
DeMar DeRozan scored a career-high 42 points and tied his career best with 11 rebounds as the Raptors earned their eighth straight home victory over the Rockets.
DeRozan made a go-ahead turnaround bank shot with 1:27 left, and then closed out the win with a jumper over James Harden with 18 seconds to go. He made 14 of 27 attempts from the floor and 12 of 17 at the free-throw line.
Jonas Valanciunas scored 15 points for Toronto, and Lou Williams had 13.
Harden scored 31 for the Rockets, who had won four in a row. Trevor Ariza had 15 points, and Corey Brewer finished with 13.
Houston has not won north of the border since a 114-100 victory on March 16, 2007.