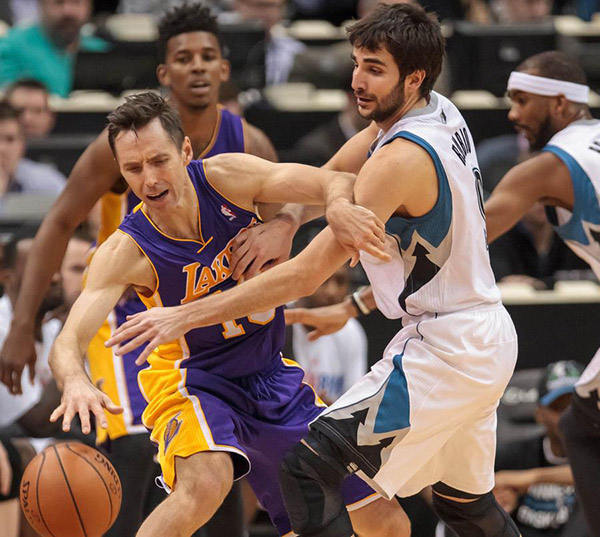 Minnesota Timberwolves point guard Ricky Rubio (9) tries to steal the ball from Los Angeles Lakers guard Steve Nash (10) in the fourth quarter at Target Center in Minneapolis in this Feb 4, 2014 file photo. Minnesota wins 109-99. [Photo/Agencies & Brad Rempel-USA TODAY Sports]
LOS ANGELES - After playing in just 65 games over the past three seasons due to injuries, Los Angeles Lakers guard Steve Nash announced his retirement Saturday, ending a 19-year NBA career that included two MVP awards.
The Canadian playmaker, 41, formalized his departure with a letter on The Players' Tribune, a website where he is a senior producer.
"I will likely never play basketball again," wrote Nash, who hasn't played at all this season. "It's bittersweet. I already miss the game deeply, but I'm also really excited to learn to do something else".
The eight-time All-Star is third in NBA history with 10,335 assists, trailing only John Stockton and Jason Kidd. Nash is also the best free-throw shooter in NBA history at 90.4 percent.
While thanking a lengthy list of former teammates and influential mentors in his letter, Nash wrote of his lifelong love for basketball and his relentless desire for improvement.
"The greatest gift has been to be completely immersed in my passion and striving for something I loved so much - visualizing a ladder, climbing up to my heroes," Nash wrote. "The obsession became my best friend".
Although his career wound down awkwardly with the Lakers, Nash will be remembered for his incredible prime with the Phoenix Suns. The speedy, sharp-shooting point guard changed the professional game and won the league MVP awards in 2005 and 2006 during a dominant stretch as the catalyst for coach Mike D'Antoni's up-tempo offense.
"It will always hurt that Phoenix Suns fans didn't get the championship they deserved during our run," said Nash, who spent 10 seasons in Phoenix during two tenures with the team.
"Yes, we had some bad luck, but I always look back at it and think, 'I could've made one more shot, or not forced a turnover, or made a better pass.' But I don't regret anything. The arena was always sold out and rocking. It was the time of my life".