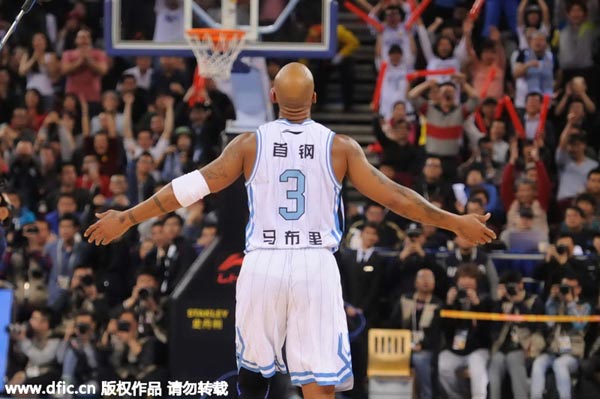 Stephon Marbury of Beijing reacts during the fifth round of match in the best-of-seven finals of the CBA league in Beijing, March 19, 2015. [Photo/IC]
BEIJING - Beijing beat Liaoning 105-93 on home court thanks to Stephon Marbury's 30 points, leading 3-2 in the best-of-seven finals of the Chinese Basketball Association (CBA) league on Thursday.
The fourth quarter was the key of the game, in which Beijing outscored the opponents 37-23.
Beijing move within one win from claiming their second straight CBA title, and the third in last four seasons.
Marbury also made five assists, three steals and four rebounds. Randolph Morris had 17 points and 13 assists for Beijing. Li Gen and Sun Yue added 24 and 14 points respectively in Beijing's last home game in the season.
Liaoning out-rebounded Beijing 50-44, but the visitors made 10 more turnovers.