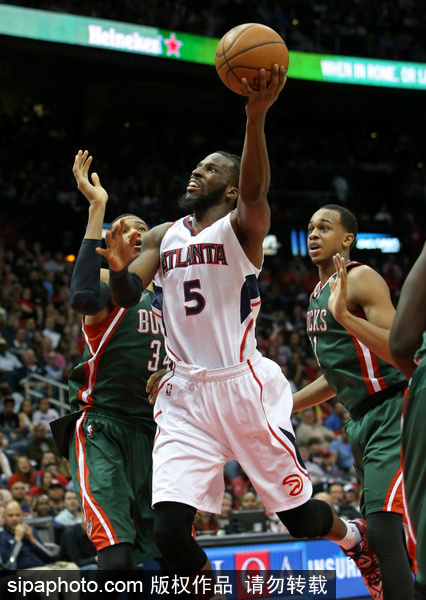 Atlanta Hawks forward DeMarre Carroll (5) attempts a shot against Milwaukee Bucks forward Giannis Antetokounmpo (34) in the fourth quarter of their game at Philips Arena in Atlanta, Mar 30, 2015. The Hawks won 101-88. [Photo/SIPA & Jason Getz]
HAWKS 101, BUCKS 88
DeMarre Carroll scored 23 points and Kyle Korver put on quite a shooting display in the third quarter, carrying Atlanta to the win.
Having clinched the top seed in the Eastern Conference, the Hawks are trying to maintain their playing edge while staying healthy for the final two weeks of the regular season. This wasn't pretty _ they put up five airballs _ but it was enough to improve to 56-18, one win away from tying the team record.
Korver, who has seemed uncomfortable playing with a protective mask since breaking his nose March 15, missed his first four shots against the Bucks _ all beyond the arc. Then, suddenly, he found the range.
In just 65 seconds, Korver made four straight deep jumpers. Three of them were outside the stripe, pushing what had been a five-point edge to 67-51. That brief stretch accounted for each of his 11 points in the game.
Giannis Antetokounmpo scored 18 for Milwaukee.