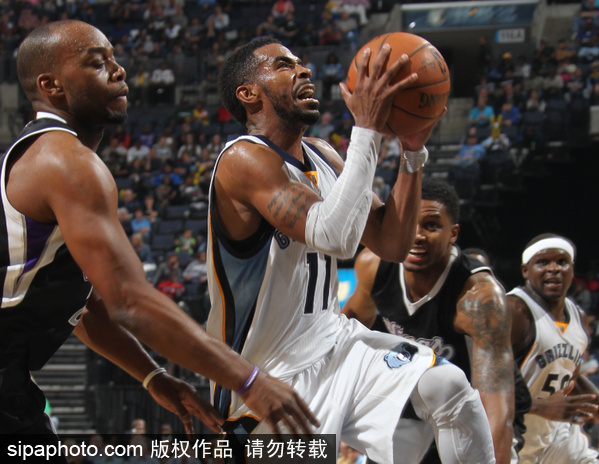 Memphis Grizzlies Mike Conley slips between the defense of Sacramento Kings Carl Landry, left, and Rudy Gay, right, at FedExForum in Memphis, March 30 2015  [Photo/SIPA]
GRIZZLIES 97, KINGS 83
Mike Conley scored 18 points, Jeff Green had 16 and Memphis ended a three-game losing streak.
The Grizzlies moved back into the second spot in the Western Conference playoff race by a half-game over the Houston Rockets, who lost 99-96 at Toronto.
Zach Randolph scored 15 points for Memphis, and Marc Gasol had eight points and 11 rebounds. Kosta Koufos grabbed a season-high 12 boards as the Grizzlies outrebounded Sacramento 45-41.
Rudy Gay led the Kings with 24 points before leaving in the third quarter with a head injury. Ray McCallum had 12 points and Derrick Williams finished with 10.
The Kings played without leading scorer DeMarcus Cousins, who was rested by the team.