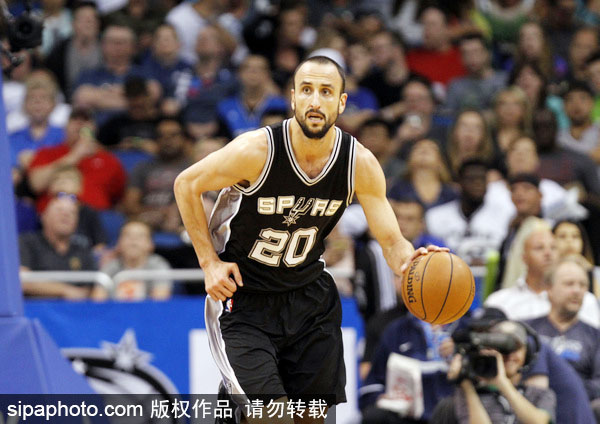 San Antonio Spurs guard Manu Ginobili (20) drives to the basket against the Orlando Magic during the second half at Amway Center in Orlando, April, 1, 2015. San Antonio Spurs defeated the Orlando Magic 103-91. [Photo/SIPA & Kim Klement-USA TODAY Sports]
SPURS 103, MAGIC 91
Aron Baynes had 18 points, Manu Ginobili added 13 and San Antonio clinched a playoff berth with a win over Orlando.
San Antonio, which posted its fifth straight victory, is 15-3 since Feb. 27 and has made the postseason in 18 consecutive seasons. It was the Spurs' eighth straight win over Orlando.
Victor Oladipo led the Magic with 24 points, while Nik Vucevic added 16 points and 11 rebounds. Orlando has lost four straight, and 10 out of its last 11.
Playing in the second game of a back-to-back, the Spurs were able to rest forward Tim Duncan. He started, but played just 12 minutes, scoring six points.