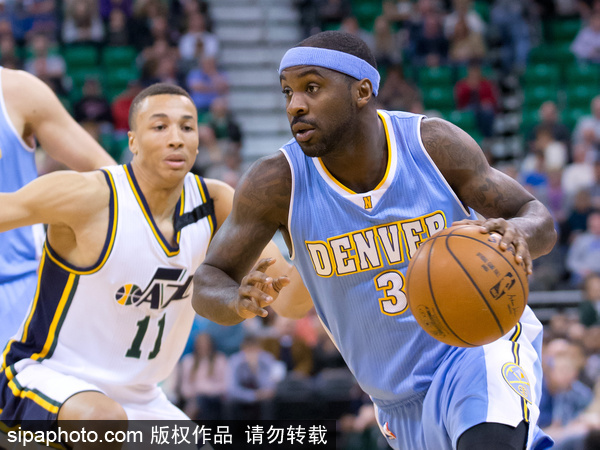 Denver Nuggets guard Ty Lawson (3) dribbles the ball in front of Utah Jazz guard Dante Exum (11) during the first quarter at EnergySolutions Arena in Salt Lake City, April 1, 2015. [Photo/SIPA & Russ Isabella-USA TODAY Sports]
JAZZ 98, NUGGETS 84
Rudy Gobert scored a career-high 20 points, grabbed 12 rebounds and had two blocks as Utah cruised past Denver. Gobert was coming off his 22nd double-double of the season Monday.
The Nuggets scored 29 first-quarter points, then 30 in the second and third quarters combined. Derrick Favors scored 19, had seven rebounds and three blocks as the Jazz frontcourt dominated. Dante Exum had a career-high 12 assists.
Kenneth Faried scored 19 points and added 10 rebounds for the Nuggets, while Ty Lawson finished with 15.