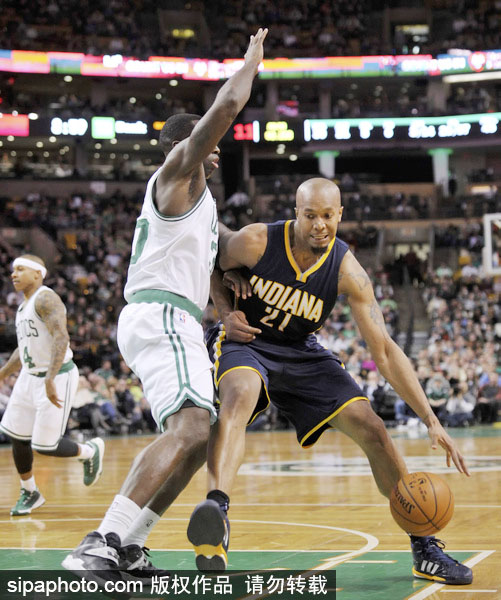 Indiana Pacers forward David West (21) controls the ball while Boston Celtics forward Brandon Bass (30) defends during the second half at TD Garden in Boston, April 1, 2015. [Photo/SIPA & Bob DeChiara-USA TODAY Sports]
CELTICS 100, PACERS 87
Kelly Olynyk scored 19 points after nearly missing the game with an eye injury sustained hours before tip-off, and Boston beat Indiana in a matchup of Eastern Conference playoff hopefuls.
Tyler Zeller scored 17 of his 19 points in the first half and Evan Turner finished with 13 points, 12 assists and 11 rebounds for Boston, which is a half-game out of a playoff spot. The Celtics sit just behind Brooklyn and Miami, who are tied for seventh place in the East.
George Hill had 21 points and Rodney Stuckey scored 16 for the Pacers, who lost for the ninth time in 11 games and fell two games behind Boston.