English teacher, Anna Chen, is a volunteer for the Rio 2016 Paralympic Games. She spends long hours every day making sure that everything runs smoothly behind the scenes at the world's biggest international sporting event for athletes with disabilities.
As her flight began its approach to Rio's Santo Doument Airport on Sept 2, Wuxi-native Anna looked out of the window to see dusk fade and the city lights illuminate the landscape below. As one of the 70,000 volunteers flying in from across the globe to give their time, energy and passion, Anna felt nervous and excited.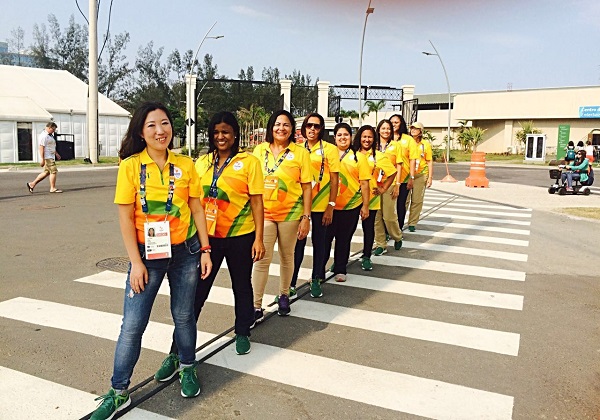 Wuxi English teacher and director of studies, Anna Chen (L) poses with her volunteer team members at the Barra Welcome Center at the Rio 2016 Paralympic Games. [Photo provided to chinadaily.com.cn]
"When I first landed I was quite overwhelmed, Rio is a very geographically diverse city, with oceans, mountains, lakes and even jungles within the city limits," Anna said.
Upon arrival in Rio, as with many volunteers, Anna spent a lot of time trying to get her bearings on public transport, and as it turns out this is a good way to discover Brazil's second-most populous city. "The only thing I could do when sitting on the bus was to observe people through the window," Anna said. "What I discovered is how much Cariocas love their beaches and football. In general, I feel like Brazilians really know how to enjoy life."